Check out new characters and Mystic Artes!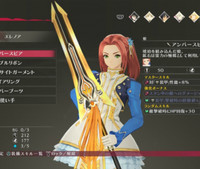 Tales of Berseria is the latest addition to the Tales universe via Bandai Namco, and additional details about several new characters and the game's Mystic Artes have been pushed out.
Two of the characters are half-siblings Oscar Dragonia and Teresa Linares, exorcists who the main characters of Tales of Berseria will eventually meet up with in-game later on. They won't be playable characters, but you'll want to get to know them. As praetor exorcists, Oscar fights against Velvet as she flees from Titania, the prison island. Teresa is his twin and an exorcist who takes care of Hellawes, the north town in the Midgand Holy Empire.
Dyle, on the other hand, is a lizard daemon who's introduced to Velvet along the course of the game who will be "really helpful" when it comes to breaking out of the prison island Titania.
Mystic Artes return in Tales of Berseria as well, special attacks that can be used via the Blast Gauge. They come with their own special animations to show off the moves as well.
There's more information to come as Tales of Berseria is poised to launch on PlayStation 4 and PlayStation 3 on August 18 in Japan and PS4 and PC in North America and Europe in early 2017.
[via Gematsu]
-------
Fueled by horror, rainbow-sugar-pixel-rushes, and video games, Brittany is a freelancer who thrives on surrealism and ultraviolence. Follow her on Twitter @MolotovCupcake and check out her portfolio for more.