FUNimation solicits August releases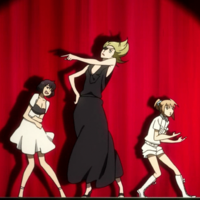 Retailers have begun taking pre-orders for North American anime distributor FUNimation's August releases. Among the summer home videos are collections of popular, recent anime series, including Barakamon and Blood Blockade Battlefront, as well as new, re-priced collections of some classics.
08/02/16
Samurai 7 Anime Classics Edition Blu-ray/DVD - SRP $49.98
Rolling Girls Blu-ray/DVD - SRP $64.98
Wit Studio (Attack on Titan, Seraph of the End) is back with Rolling Girls, a road-trip adventure filled with vibrant color, energetic style, and a whole lot of heart.
Between super-powered fighters known as "Bests" battling across the city and fanatical vigilante squads cheering them on from the ground below, it's easy for an average girl to get lost in the shuffle. But when her town's Best gets taken out by a rival, Nozomi Moritomo gasses up her motorcycle and sets off across Japan to take her place.
Joined by the feisty wannabe Best, Ai, the wandering artist Yukina, and the spacy but mysterious Chiaya, Nozomi and her makeshift motorcycle gang cross the country settling scores between warring districts.
In a world that favors the Best over the rest, it's hard for an average girl to find where she belongs, but one thing's for sure--until she gets there, it's going to be a wild ride.
Special Features: Episode 8 Commentary (Monica Rial, Colleen Clinkenbeard, Jad Saxton), Episode 12 Commentary (Clifford Chapin, Felicia Angelle, Leah Clark), Textless Opening and Closing Songs, Previews for Episodes 2-12, Trailers.
Spoken Languages: English, Japanese, English Subtitles.
Jormungand Complete Series Blu-ray/DVD - SRP $69.98
World Break Aria of Curse for a Holy Swordsman Blu-ray/DVD - SRP $64.98
Moroha Haimura of World Break isn't your typical teenager. In fact, he's quite unique compared to his fellow classmates at the high-profile Akane Academy. Along with other gifted students, he trains as a "Savior" where he will learn to harness his special inherited mystical powers from a former life.
However, unlike his peers, Moroha not only has one past life, but two! This means he can command both the Dark Arts of spell magic and the Light Arts of the body itself. Because of his rare talents, he quickly climbs the ranks to join the "Strikers," an elite group of Saviors at the academy. With the other Strikers at his side, Moroha must protect the fate of the world against giant, evil beasts—all while juggling the hearts of the jiggly girls constantly vying for his affection. With each battle, Moroha learns more and more about his two heroic past lives and the powers hidden within.
Special Features: TBD
Spoken Languages: English, Japanese, English Subtitles
08/09/16
Gunslinger Girl Season 1-2 + OVA Anime Classics Blu-ray/DVD - SRP $49.98
Barakamon Blu-ray/DVD - SRP $64.98
After an unfavorable critique drives uptight young calligrapher Sei Handa of Barakamon past his breaking point, his parents decide to ship him off to Japan's Goto Islands to cool off. But instead of a peaceful paradise, Handa discovers a village full of quirky characters with little regard for personal space. On top of that, Handa's temporary apartment has already been claimed as home base by the village elder's granddaughter, Naru, who has a knack for getting into trouble. Will Handa ever be able to redeem his impulsive misdeed? Will he ever be able to write like the masters? Will the village kids ever learn to KNOCK first??
Special Features: TBD
Spoken Languages: English, Japanese, English Subtitles
Absolute Duo Blu-ray/DVD - SRP $64.98
Welcome to the prestigious Koryo Academy of Absolute Duo! A special school where students train to fight with weapons that are manifestations of their souls. On the outside, Tor Kokonoe seems like a regular academy student. But while his classmates carry swords, kunai, and axes into battle, his soul becomes a shield. As the students pair up in order to reach their full potential, Tor is partnered with the mysterious and exotic Julie. What he doesn't realize is that their partnership means they'll have to do everything together—fight, attend class, and even sleep in the same room! As the strangely affectionate girl begins pushing his boundaries to the limit, the other girls in his class start taking notice. While he's fighting to make the grade, he'll have to fend off the advances and attention from the tomboyish Tomoe, the meek Miyabi, and the exceptionally talented Lilith—a shield might be just what he needs after all!
Special Features: TBD
Spoken Languages: English, Japanese with English subtitles.
GARO The Animation Season 1 Part 2 Blu-ray/DVD - SRP $64.98
08/16/16
Blood Blockade Battlefront Blu-ray/DVD Limited Edition - SRP $84.98
Produced by Studio Bones (Fullmetal Alchemist, Space Dandy, Soul Eater) and created by Trigun writer Yasuhiro Nightow, Blood Blockade Battlefront brings compelling characters and dynamic plotlines together for one unforgettable adventure.
After a breach between Earth and the netherworld opens up over New York, humans and creatures from other dimensions become trapped in an impenetrable bubble that surrounds the city. Forced to coexist in a new city known as Salem's Lot, the shaky peace between humanity and the netherworld creatures is protected by an underground group of super humans known as Libra. When a case of mistaken identity brings not-so-ordinary delivery boy Leonardo Watch face-to-face with this group, he joins their ranks hoping to help prevent the destruction of the world by a group of monsters and madmen lead by a powerful being known as the King of Despair.
Blood Blockade Battlefront Limited Edition contains a 10 art cards packaged in a chipboard rigid box with specialty print.
Special Features: TBD
Spoken Languages: English, Japanese, English Subtitles
Blood Blockade Battlefront Blu-ray/DVD - $64.98
Assassination Classroom Season 1 Part 2 Blu-ray/DVD - SRP $64.98
08/23/16
Ikki Tousen Great Guardians Season 3 SAVE Edition DVD - SRP $29.98
Ikki Tousen Xtreme Xectuor Season 4 SAVE Edition DVD - SRP $29.98
Hal Blu-ray/DVD - SRP $19.98
The Heroic Legend of Arslan Season 1 Part 1 Blu-ray/DVD - SRP $64.98
An incomparable anime epic from the original creator of Fullmetal Alchemist, Hiromu Arakawa, The Heroic Legend of Arslan brings political intrigue, thrilling action, and a colorful cast of characters together for a grand adventure filled with treachery and triumph.
Pars Era, the year 320—war is on the horizon. As the soldiers of Pars prepare for battle, a traitor within their ranks turns the tides in favor of the enemy kingdom, Lusitania. Arslan, the young Prince of Pars, survives the massacre to discover that his father has gone missing and his life is in grave danger. Unsure who to trust, Arslan escapes the battlefield, evading capture until he's found by his loyal friend Daryun, the formidable Black Knight of Pars. With nothing but Arslan's title and Daryun's skill, the pair set off on a journey to return the Prince to his rightful place on the throne of Pars.
Special Features: TBD
Spoken Languages: English, Japanese, English Subtitles
Laughing Under the Clouds Blu-ray/DVD - $64.98
Under the cloudy skies of turn-of-the-century Japan, three brothers shine brightly. Orphaned at a young age, the responsibility of providing for the Kumo family fell to the eldest brother, Tenka. A skilled swordfighter and proud guardian of his rambunctious younger siblings, Soramaru and Chutaro, Tenka Kumo walks through life with unfailing optimism and devotion to his family.
But heavy clouds are beginning to settle over their secluded shrine -- a growing gloom that signals the return of a deadly serpent known as the Orochi. As the Japanese military's Yamainu Squad searches for the serpent's human vessel, the unrest caused by the strict laws of the Meiji era spreads rebellion across the countryside.
As the Kumo family's ancient connection to the Orochi comes to light, old rivalries will be reignited, and the brothers' carefree life will give way to the darkness of an ancient prophecy. As long as they stick together, what's the worst that could happen?
Special Features: TBD.
Spoken Languages: English, Japanese with English subtitles.
08/30/16
Eureka Seven Blu-ray/DVD $69.98
DVD $64.98
Doamygar-D DVD - SRP $14.98
Take food fights to the next level in this bite-sized homage to mecha anime of the past.
In modern day Kyoto, young Daijiro Kyogoku has finally taken over his family's traditional Japanese sweets shop. One day at the shop, Daijiro comes across a mysterious giant candy-making robot named Doamygar-D hidden in the shop's basement.
This robot is a master of treats, and along with Daijiro, they make the perfect dessert crafting pair. When evil monster-like robots take over begin attacking the city, Daijiro must man his newfound candy-making mecha to feed the insatiable hunger of these foes and turn them back into harmless humans. There has to be someone behind all these transforming treat-loving terrors, and that someone might be closer to Daijiro than he ever thought possible.
Doamygar-D contains episodes 1-13.
Samurai Warriors DVD - SRP $44.98
via @WTK and Right Stuf
------
Scott Green is editor and reporter for anime and manga at geek entertainment site Ain't It Cool News. Follow him on Twitter at @aicnanime.