Directed by Daisuke Nishida (Sengoku Basara stage plays)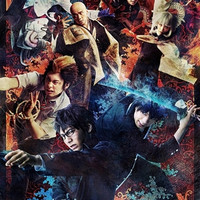 The official website for "Ao no Exorcist : Kyoto Guren-hen," the upcoming third stage play adaptation of Kazue Kato's Ao no Exorcist/Blue Exorcist dark fantasy shonen mamga series, has posted two main visuals featuring its cast. The site has also started accepting pre-orders for the 7,800-yen tickets since Sunday, and it will be accepted till next Monday.
The manga's first stage play "LIVE ACT Ao no Exorcist -Majin no Rakuin" was performed at Nihon Seinenkan in Tokyo from May 11 to 17, 2012. Then the second play "Ao no Exorcist -Ao no Honoo Kakusei-hen/Kyoto Fujyouou-hen" followed at Sunshine Theater in Tokyo from June 21 to 29, 2014. The third stage play "Kyoto Guren-hen" is scheduled to be performed at Zepp Blue Theater Roppongi in Tokyo from August 5 to 14, 2016. The second play's Daisuke Nishida, who also worked on the two stage play adaptations of Capcom's Sengoku Basara action game franchise in 2009 and 2010, is again attached to write and direct. The original manga author Kato helps writing the script.
1st main visual
2nd main visual
Ryo Kitamura (Rin Okumura) & Yukio Okumara (Shuto Miyazaki)
© 2016 Kazue Kato/Shueisha, Stage Play "Blue Exorcist" Project