Series join streaming Dubcast programming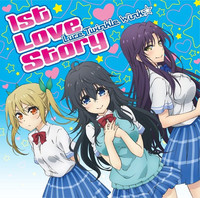 With Shonen Maid, And you thought there is never a girl online? and Endride joining their spring Dubcast streaming programming, FUNimation has announced the English dub cast for the new anime series.
Shonen Maid
Synopsis
After the loss of his mother, Chihiro is left alone. With no known family left, he has to find a way to
move on. Things aren't looking good until a chance encounter with the young and handsome
Madoka—who turns out to be his wealthy uncle! Madoka offers him his home and all Chihiro has to do is clean up after the messy, irresponsible man. The problem? This job requires a uniform—a maid outfit!
Cast
Chihiro – Apphia Yu
Madoka – Seth Magill
Keiichiro – Todd Haberkorn
Chiyo – Michelle Rojas
Miyako – Leah Clark
Hino – Morgan Berry
Amahara – Kristen McGuire
Takei – Kate Oxley
Crew
ADR Director – Caitlin Glass
ADR Engineer – Domonique French
And you thought there is never a girl online?
Synopsis
After Hideki Nishimura confesses to a girl online, he is shocked when she turns out to be a boy. Traumatized, he swears to never trust any "girl" players. That is, until one confesses to him! Ako Tamaki is a beautiful loner who has trouble differentiating between what's reality and the online world she spends so much of her time in. Can Hideki and his guild friends help fix socially inept Ako?
Cast
HIDEKI/RUSIAN – Dallas Reid
AKO – Trina Nishimura
AKANE – Jad Saxton
KYOH – Mallorie Rodak
SCHWEIN – Josh Grelle
APRICOT – J. Michael Tatum
Crew
ADR Director: Cris George
ADR Engineer: Jose Sandoval
Endride
Synopsis
Beneath the earth's surface lies the unknown world, Endra. After touching a mysterious crystal, Shun Asanaga finds himself in this new land and his only way home lies with helping the vengeful Prince Emilio. Recently imprisoned, Emilio vows to take back his rightful throne from King Delzaine. Check out the latest adventure from the creator of Rurouni Kenshin and the studio behind Durarara!!
Cast
Shun Asanaga – Aaron Dismuke
Emilio Langheim – Ian Sinclair
Alicia – Sarah Wiedenheft
Falarion – Felecia Angelle
King Delzaine – Phil Parsons
Pascal – Mark Stoddard
Crew
ADR Director – Kyle Phillips
ADR Engineer – Jeremy Woods

-----
Scott Green is editor and reporter for anime and manga at geek entertainment site Ain't It Cool News. Follow him on Twitter at @aicnanime.