The story is set two days before the Tokyo Olympic and Paralympic Games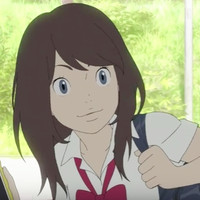 The official website for 50-year-old acclaimed anime director Kenji Kamiyama's new feature film Hirunehime -Shiranai Watashi no Monogatari- (Princess Nap -The Story of Unknown Me-) has released a 45-second first teaser introducing the voice of the protagonist girl Kokone Morikawa played by 24-year-old actress Mitsuki Takahata. Kamiyama is well-known for his directorial works for the Ghost in the Shell: Stand Alone Complex series (2002–2006), Eden of the East (2009), and 009 Re:Cyborg (2012). The film is set for a 2017 release in Japan, with Warner Brothers Japan distributing.
In Japan, Takahata is best known for her performance as Peter Pan in the Peter Pan musical play for six years between 2007 and 2012, and the Japanese dub voice of Ella/Cinderella in Disney's live-action 2015 film Cinderella. This is the first time for her to voice in a Japanese anime feature film.
The story is set in the Kojima area of Okayama Prefecture in 2020, just two days before the Tokyo Olympic
and Paralympic Games begin. It focuses on the relationship between the protagonist girl Kokone, who is
always sleepy, and her father. She recently keeps seeing the same dream over and over again, and she
learns the dream is connected to her family's secret that she has not known.
\『ひるね姫』森川ココネ役決定!/

神山健治監督が描く父と娘の感動アニメ映画『#ひるね姫』。いま最も注目されている女優のひとり、高畑充希さんが、ヒロイン森川ココネ役に決定しました。岡山弁でアニメ映画声優初挑戦します! pic.twitter.com/jMra5UUNT8

— 映画『ひるね姫』公式 (@hirune_hime) May 17, 2016
Main staff:
Director/Screenplay Writer: Kenji Kamiyama
Original Character Designer: Satoko Morikawa (The Cat Returns)
"Hearts" Designer: Shigeto Koyama (Big Hero 6)
Animation Director: Atsuko Sasaki (Gargantia on the Verdurous Planet, Eden of The East)
Anime Production: Signal-MD (Tantei Team KZ Jiken Note)
Distributor: Warner Brothers Japan
Source: "Hirunehime -Shiranai Watashi no Monogatari-" official website
©2017 Hirunehime Production Committee