Starring Shunya Shiraishi (Kamen Rider Wizard), Ryohei Suzuki (HK / Hentai Kamen)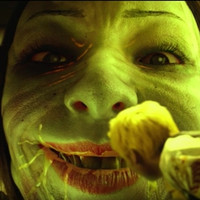 The official website for Higanjima Deluxe, a new film adaptation of Kouji Yamamoto's horror survival manga series Higanjima, opens today for an October 15 release in Japan, and its 15-second first teaser is also online now. The tagline on its first promotional poster is written as "The Last Boss is My Older Brother."
The manga was previously adapted into a live-action film directed by Kim Tae-kyun in 2010, and a 10-episode TV drama supervised by Takashi Miike in 2013. The two main cast of the 2013 drama, Shunya Shiraishi as Akira Miyamoto and Ryohei Suzuki as his older brother Atsushi Miyamoto, reprise their roles in the 2016 film. Takeshi Watanabe (Nekozamurai series) serves as the director, Sakichi Sato (Ichi the Killer) and Hidehiro Ito (Doreiku - Boku to 23-nin no Dorei) co-write the screenplay. A sequel to the 2013 drama is also in the works.
"Higanjima Deluxe" teaser
Poster visual
重大発表!!
映画『彼岸島』正式タイトル決定&公式サイト開設!!
『彼岸島 デラックス』2016年10月15日(土)より全国公開!!
詳細は公式サイトにて!! あの大人気邪鬼も参戦!?(告知担当2号)
higanjimadx.jp pic.twitter.com/ANbAdK0b2c

— ヤングマガジン編集部 (@magazine_young) May 17, 2016
---
DVD jacket for the 2010 film
DVD jacket for the 2013 TV drama
via: Cinema Today