Voice actress audition for a new character Rei will open on May 30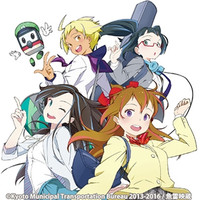 The crowdfunding for a new short anime featuring the mascot girls of the Kyoto-city Subway started on March 18, and instantly reached its initial target of one million yen only in two hours. By the end of its campaign, it collected an amazing 10,422,000 yen, which was enough to produce a five-minute short and offer some merchandise of the girls.
【1000万円突破】京都市営地下鉄「地下鉄に乗るっ」クラウドファンディング、ついに終了致しました。最終金額は10,322,000円でした。ご支援くださった皆様、本当にありがとうございました! #アニメを作るっ pic.twitter.com/0Cmd7ybbRK

— 魚雷映蔵 #地下鉄に乗るっ (@gyorai_) April 26, 2016
Since 2013, Kyoto Municipal Transportation Bureau has held various promotional campaigns for its
subway service, titled "Chikatetsu ni Noru!" (Taking a Subway Train!), using high school girl characters
designed by Kyoto-born illustrator Kamogawa. In October 2014, Gyorai Eizou (Urawa no Usagi-chan)
produced a 15-second anime CM featuring the winners of the voice actress contest held at the Kyoto
International Manga Anime Fair 2014.
Gyorai Eizou's new short anime was originally planned to be produced as a 30-second PV and revealed
on September 25, 2016, for the 35th anniversary day of the subway. But due to the unexpected huge
success of the crowdfunding, its length is now expanded to five minutes, and its schedule is moved to
a later date. In addition, the acceptance for the audition for a new character Rei Uzumasa will open
on May 30. The winner is guaranteed to voice the character in the new anime and join the upcoming
Kyoto International Manga Anime Fair 2016 in September.
「地下鉄に乗るっ」の太秦麗 声優オーディションの特設ページを公開しました!5月30日より受付開始です。https://t.co/3Ajd4M4oKv ご興味ある方、お知り合いに紹介したい方など、ぜひチェックしてみて下さい。#太秦麗 pic.twitter.com/3ETNG7cN1n

— 魚雷映蔵 #地下鉄に乗るっ (@gyorai_) May 17, 2016
---
15-second CM produced in 2014
Moe Uzumasa
Saki Matsuga
Misa Ono
Source: Gyorai Eizou
images © Kyoto Municipal Transportation Bureau