"Amanchu!" TV anime 1st episode will be screened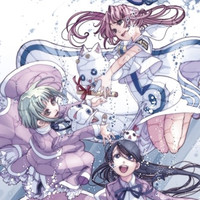 In commemoration of the broadcast of the TV anime adaptation of Kozue Amano's Amanchu! manga series this July, a collaboration event featuring Amanchu! and her another hit series ARIA is scheduled to be held at Harmony Hall Zama in Kanagawa Prefecture on June 12. The event is titled as "ARIA x Amanchu! ~Saa, Atarashii Monogatari wo Hajimemashou (Let's Start A New Story)", and its main visual is newly drawn by Amano herself.
6月12日開催「ARIA×あまんちゅ!~さあ、新しい物語をはじめましょう~」。イベントビジュアルが解禁!なんと天野こずえ先生の描き下ろしイラストです!本当に素敵なビジュアルです♪(宣伝ひげ) #ARIAカンパニー #あまんちゅ pic.twitter.com/fbZg0Wvy2n

— あまんちゅ! (@amanchu_anime) May 20, 2016
The event will have Junichi Sato, the director of both ARIA and Amanchu! anime series, six main voice
cast from ARIA (Erino Hazuki, Chiwa Saito, Ryo Hirohashi, Sayaka Ohara, Chinami Nishimura, Junko
Minakawa), and four from Amanchu! (Eri Suzuki, Ai Kayano, Saori Onishi, Shizuka Ito). Prior to the July
premiere on TV, an advance screening of the first episode of Amanchu! is also planned.
---
"Amanchu!" TV anime main voice cast:
Hikari Kohinata: Eri Suzuki (Milinda Brantini in Heavy Object)
Futaba Ooki: Ai Kayano (Meiko "Menma" Honma in Anohana)
Ai Ninomiya: Saori Ohnishi (Aiz Warenstein in Is It Wrong to Try to Pick Up Girls in a Dungeon?)
Makoto Ninomiya: Yuichiro Umehara (Eugene Sevenstark in Mobile Suit Gundam: Iron-Blooded Orphans)
Mato Katori: Shizuka Ito (Haruka Morishima in Amagami SS)
Cha-Komon: Yurika Kubo (Chie Satonaka in Ooya-san wa Shishunki!)
Kino Kohinata: Kikuko Inoue (Belldandy in Oh My Goddess!)
"Amanchu!" TV anime PV
Source: "Amanchu!" TV anime official website
© 2016 Kozue Amano/MAG Garden, Yumegaoka High School Diving Club