Male idol unit-featured film has earned over 600 million yen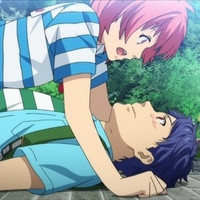 To promote the release of its DVD/Blu-ray on June 17, KING OF PRISM by Pretty Rhythm will get 4DX digital screenings at 26 selected theaters from one day after it. The director Masakazu Hishida and the Shin Ichijo voice actor Junta Terashima will join its first day screening at Cineplex Hirakata in Osaka.
The spin-off film to Pretty Rhythm: Rainbow Live, the third Pretty Rhythm TV anime, opened in Japan on January 9, 2016, and is still running at 29 regular theaters even after four months since its release. As of May 18, it has earned an impressive 600 million yen on 360,000 admissions at the Japanese box office. The 4DX ticket price at Japanese theaters is 1,000 yen higher than regular prices (1,800 yen for adults, 1,000 yen for kids). So the film's strong run at the box office is expected to continue for a while with the help of the 4DX screenings.
The 59-minute film focuses on the three-member male idol unit Over The Rainbow, voiced by Tetsuya
Kakihara (Koji Mihama), Tomoaki Maeno (Hiro Hayami) and Toshiki Masuda (Kaduki Nishina). The director
of the film, Masakazu Hishida mentioned about the possibility of a sequel in the Mantan Web article
posted last month.
Trailer
From the "Prism Star Support" screening event at the Shinjuku Wald 9 theater on January 17
Main Visual
Blu-ray set
via: Mantan Web
© T-ARTS/Sophia/King of Prism Production Committee