Plus IndieGoGo crowdfunding plans, Anime Expo guests and more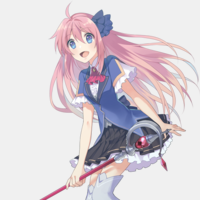 Sekai Project, mostly known for their visual novel translations and localization, announced two new titles at this weekend's Anime Central. From Chloro comes visual novel 2236 A.D., and from Broken Desk, the side-scrolling action game, MAGICAL×SPIRAL.
2236 A.D.
Developer: Chloro
Product page: http://sekaiproject.com/products/2236-a-d/



In the spring of 2231 humanity had evolved and a new kind of communication ability called "telepathy" had emerged.

In his first term at school, Yotsuba, takes notice to a girl who doesn't use these newly developed telepathic abilities, and as the days pass by, the girl remains shut in and closed off to the world around her. One day, in the yard of his home, Yotsuba finds a Phillips-head screwdriver. He soon discovers that the misplaced screwdriver came from a nearby abandoned manor and proceeds to investigate.

Why does this girl not utilize her telepathic abilities? What will Yotsuba find inside the mysterious abandoned manor? The answers to these questions await player discovery in 2236 A.D.

NOTE: An all-ages version and adult version of 2236 A.D will be scheduled for release on Steam and Denpasoft respectively.
MAGICAL×SPIRAL


Developer: Broken Desk
Medianne Phirtia, a student residing in Midgard, has long-held admirations for 'Celestria' — it's a place spoken of in fairy tales where magic users dwell. During her study breaks, Medianne would often indulge her curiosity by reading books about such tales…until finally, she was able to confirm the existence of Celestria thanks to her adept research. The mysterious 'Tower of Phantasm' that lies in the very center of the world: that is the entrance to Celestria!

In MAGICAL×SPIRAL players will climb perilous tower floors, battle waves of increasingly difficult monsters, and upgrade their magical abilities to summon spirit allies to come to their aid in this unusual magic-based action game!
Also
Ne no Kami will be on IndieGoGo on the 25th, exclusive physical copies and shikishis will be available for backers! https://t.co/I7OBTCPbnh

— Sekai Project (@sekaiproject) May 21, 2016
And, there's an update for a certain spin-off to a popular visual novel series
Also announced yesterday is that CLANNAD Side Stories will be released in the next two weeks! Final checks are in progress.

— Sekai Project (@sekaiproject) May 21, 2016
~At dawn, the moonlight illuminates the old capital enveloped in fog. Guided by fate, bound by their thoughts, the maidens dance.

Amid a spiral of despair, the beloved princess and her guardian knight overcome their fear.~

Help support and fund Ne no Kami at IndieGoGo!
https://igg.me/at/nenokami
Sakura Dungeon is releasing this summer! Here's a little preview of one of the monster girls https://t.co/hZGP4ykBot pic.twitter.com/44HnL4J1cS

— Sekai Project (@sekaiproject) May 21, 2016
Sakura Dungeon is a first-person dungeon crawling RPG set in a fantasy world where monsters and humans have been at war with one another for generations. However, a new battle is brewing....

In this story players will assume the role of an ancient fox spirit who awakens after several hundred years of deep sleep to find that possession of her lovingly made dungeon has been taken from her! As if that wasn't enough cause for alarm, she has also been robbed of her power, leaving her weak and vulnerable. She soon discovers that it was a heroic knight who woke her from her slumber, and after a brief fight and "negotiation," the knight decides to join her on an adventure to reclaim the dungeon! Together, they will unearth great treasures, reveal secrets and hidden rooms, and recruit monster girls to fight by their side...all while avoiding traps, fighting off dangerous enemies and bosses across multiple floors, and uncovering the devious plans of the new dungeon lord. One of the most important mechanics of Sakura Dungeon is the 'capture' mechanic, wherein the player will be able to capture monster girls they encounter and add them to their party.

In addition dungeon exploring, Sakura Dungeon is also packed with extensive dialogue and plenty of gorgeous backdrops and cutscene artwork for the player to unlock as they carefully navigate their way through the dungeon.

http://store.steampowered.com/app/407...
Also announced during the live panel at Anime Central, Sekai Project revealed several special guests who will be appearing with them this July at Anime Expo (AX) in Los Angeles:
From Japan, the face of NEKO WORKs, leading the drafting, artwork, and release of everyone's favorite catgirl comedy series, NEKOPARA: Sayori
From CreSpirit, the Taiwan-based development studio behind the wildly popular 2D exploration platformer, Rabi-Ribi: CEO and president, Sirluma, translator, Ian Lee, and artist, Saiste
From the Japanese doujin circle, ALICE IN DISONANCE, creators of the faultseries: founder, writer and director, Munisix, and art director, Hare Konatsu
In anticipation of AX, Sekai Project is also launching a special giveaway campaign on social media. Starting the week of May 23, every Friday leading up to AX on July 1, Sekai Project will select the best or most interesting social media post from Facebook, Twitter, Tumblr, or Instagram that uses the hashtag "#NEKOPROJECTAX." Winners will receive NEKOPARA-themed prizes. Additional information can be found on the Sekai Project website at www.sekaiproject.com and on their social media pages.
------
Scott Green is editor and reporter for anime and manga at geek entertainment site Ain't It Cool News. Follow him on Twitter at @aicnanime.