Yet-titled 13th single will be released on August 3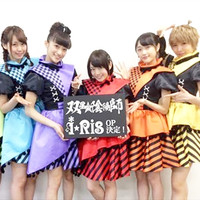 It has been confirmed that six-member idol unit i☆Ris' upcoming 13th single song will be featured as the new OP theme for the ongoing TV anime Sousei no Onmyouji/Twin Star Exorcists from the coming July, following the current first OP "Valkyrie -Ikusa Otome-" by Wagakki Band. The TV anime adaptation of Yoshiaki Sukeno's action fantasy manga premiered in Japan in April 2016, and the unit's 21-year-old member Yu Serizawa has voiced Mayura Otomi in the anime.
The unit was formed by the six winners of the Anison Vocal Audition held in July 2012. They have performed all OP songs for the PriPara TV anime series since 2014, and the members have also played its main characters. Their yet-titled 13th single is scheduled to be released on August 3. Avex Pictures has posted an announcement video from the members for the new Twin Star Exorcists OP song below.
i☆Ris NewSingleを8/3リリース決定!TVアニメ「双星の陰陽師」7月クールOPテーマ♪メンバーからのコメントhttps://t.co/jgfBNv6Osphttps://t.co/ZrBOncmWkD#i_Ris pic.twitter.com/tDnDup4aZD

— i☆Ris (@iris_official_) 2016年5月21日
---
12th single "Ready Smile!!" short MV (TV anime PriPara 3rd season 1st OP/June 1, 2016 release)
via: "Twin Star Exorcists" TV anime Japanese official website
© avex music creative inc.