The fourth chapter "Fateful Eve" hits theaters this fall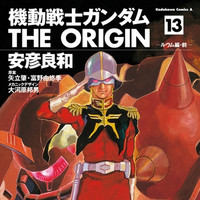 In the end of the first day screening of Mobile Suit Gundam: The Origin III Akatsuki no Houki (Dawn of Rebellion) on May 21, in addition to the trailer for the next and final fourth chapter "Unmei no Zenya (Fateful Eve) for a fall 2016 release, a teaser for the upcoming "Battle of Loum" arc was also reportedly revealed.
The arc was told in the 13th and 14th tankobon volume of Yoshikazu Yasuhiko's Gundam The Origin manga, published in July and December 2006. The one of the most important early battles in the One Year War, occurred on January 15 and 16 in the Universal Century 0079, was never directly illustrated in the first Gundam TV series aired in Japan from 1979 to 1980. The Gundan The Origin anime edition of the "Battle of Loum" arc is planned to launch sometime in the next year.
"Gundam The Origin" manga 13th volume cover
14th volume
Source: Gundam.Info
© Sotsu/Sunrise