Two-day Thanks Festival attracted 51,149 visitors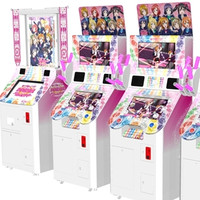 Bushiroad announced at the SchFes Kanshasai 2016 event held in Ikebukuro on May 21 and 22 that Love Live! School Idol Festival ~after school ACTIVITY~, an arcade edition of Bushiroad and KLab's Love Live! School Idol Festival social rhythm game, will start its service this winter. According to the game's official twitter, the two-day event attracted 51,149 visitors, and the 2017 event is already planned.
The arcade edition is co-produced by Bushiroad and Square Enix. The second location tests of the edition are scheduled to be held in Tokyo (Taito Station Big Box Takadanobaba), Osaka (Namco Umeda) and Aichi (Nagoya Leisure Land Sasashima) from May 27 to 29.
【スクフェス感謝祭2016】18時をもちまして会期を終了いたしました。本日は26,012名の方にご来場いただき、2日間で計51,149名の方にご来場いただきました!ご参加いただいたみなさま、誠にありがとうございました。「スクフェス感謝祭2017」へのご参加もお待ちしております!

— 【公式】ラブライブ!スクフェス事務局 (@lovelive_SIF) May 22, 2016
Arcade edition machines
Songs available at the test machines
Standees will be displayed at the test locations
Title logo
New PV
Source: press release
©2013 Project Love Live!
©SQUARE ENIX CO., LTD.
©KLabGames ©bushiroad All Rights Reserved.