"Birthday Party" is now being held at Charmantscena Tokyo today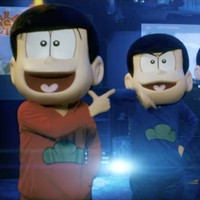 To celebrate the birthday of the sextuplet Matsuno brothers today on May 24, the official website of the TV anime Osomatsu-san/Mr. Osomatsu posted a two-minute live-action music video of the "Birthday Remix" version of its 1st ED theme song "Six Same Faces ~Konya wa Saikou!!!!!!"
The song was originally performed by Iyami (Kenichi Suzumura) with The Sextuplets: Osomatsu (Takahiro Sakurai), Karamatsu (Yuichi Nakamura), Choromatsu (Hiroshi Kamiya), Ichimatsu (Jun Fukuyama), Jushimatsu (Daisuke Ono), and Todomatsu (Miyu Irino). Its CD single was released on December 16, 2015, then sold over 110,000 copies in Japan and officially certificated as "Gold Disc" by The Recording Industry Association of Japan (RIAJ), which is given to music CDs sold 100,000 copies.
In addition, an "Osomatsu-san Birthday Event" is now being held at Charmantscena Tokyo today. The
kigurumi (suit) actors whom you can see in the video welcome the visitors 10 times during the day
from 11:10 to 20:50.
HAPPY BIRTHDAY! 本日は松野家6つ子のお誕生日ですね♪公式サイトでも6つ子のお誕生日をお祝いしていますよ★なんとあの歌のお誕生日REMIXのPVも…!? https://t.co/LMbXOOr9r6 #おそ松さん pic.twitter.com/tNzHdzlK1e

— TVアニメ「おそ松さん」公式アカウント (@osomatsu_PR) May 23, 2016
CD Jacket illustration
Source: "Osomatsu-san" TV anime official website
© Fujio Akatsuka/Osomatsu-san Production Committee