Ten years after the TV anime story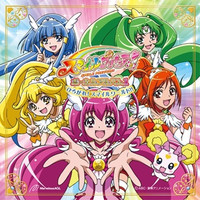 Toei Animation's Atsutoshi Umezawa yesterday announced on his Twitter that a sequel novel to the 9th PreCure TV anime series Smile PreCure! was completed and already sent to press for a summer 2016 release. Umezawa served as a producer for the 6th series Fresh PreCure! (2009-2010), 7th HeartCatch PreCure! (2010-2011), 8th Suite PreCure♪ (2011-2012), and 9th Smile PreCure! (2012-2013). The novel writer's name has not been mentioned.
According to Umezawa, the sequel novel is set 10 years after the TV anime, when the protagonist Miyuki Hoshizora and other main characters become 24 years old. They were second grade junior high school students in the original TV anime story. He also mentioned that an after story between Akane Hino (Cure Sunny) and Brian Taylor, the transfer student from Europe who appeared in the anime's 36th episode, will be also told in the novel.
In a recent similar case, a sequel novel to the 6th PreCure TV series Fresh PreCure! was published in
March of this year from Kodansha's Character Bunko imprint. The novel written by the TV anime's original
series composition writer Jun Maekawa was set one year after the TV anime ended, when the protagonist
girls become the third grade junior high students.
"Smile PreCure!" TV series main visual
Source: Atsutoshi Umezawa's Twitter
(C) ABC/Toei Animation