Releases scheduled for June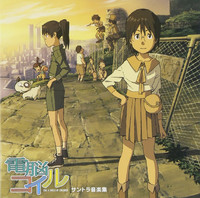 English dub casts have been attached to a pair of June genre releases from Sentai Filmworks, with the who's who for history otome game inspired Hakuoki – Theatrical Version, Chapter 1: Wild Dance Of Kyoto and the the highly regarded, never before licensed for North America, 2007 sci-fi Den-Noh Coil (technically from Maiden Japan, but likewise distributed by Section23).
HAKUOKI – THEATRICAL VERSION, CHAPTER 1: WILD DANCE OF KYOTO
There's a war going on in ancient Kyoto. A war fought in shadows, between the forces of the Shogunate's armed enforcers, the Shinsengumi, and the vampire-like Ronin warriors known as the Rasetsu or Furies. And trapped in the middle is a young woman disguised as a man. Seeking her missing father, Chizuru Yukimura comes to Kyoto only to find her fate forever intertwined with the destinies of Shinsengumi Vice commander Toshizo Hijikata and his elite force of swordsmen. Because Chizuru's father has created a secret elixir that enhances the user's strength, speed and healing, and the furies will do anything and kill anyone in order to control that power! Historical fact and nightmarish fiction combine as the world of the hit series HAKUOKI returns in a stunning new epic feature film: HAKUOKI: WILD DANCE OF KYOTO!
Genres: Action & Adventure Romance Shoujo
Rating: TV-14 [V]
AVAILABLE ON JUNE 28, 2016
Director:
Christopher Ayres
ADR Script:
George Manley
ENGLISH DUB VOCAL CAST
| | |
| --- | --- |
| Chizuru Yukimura | Brittany Karbowski |
| Toshizo Hijikata | Andrew Love |
| Soji Okita | Blake Shepard |
| Hajime Saito | Leraldo Anzaldua |
| Heisuke Todo | Greg Ayres |
| Sanosuke Harada | Phil Hyde |
| Shinpachi Nagakura | Scott Gibbs |
| Isami Kondo | David Wald |
| Keisuke Sannan | David Matranga |
| Genzaburo Inoue | Rutherford Cravens |
| Susumu Yamazaki | Cameron Bautsch |
| Kai Shimada | George Manley |
| Kashitaro Ito | Clint Bickham |
| Chikage Kazama | Corey Hartzog |
| Kyuju Amagiri | Steven Fenley |
| Kyo Shiranui | Houston Hayes |
| Kodo Yukimura | Mark X Laskowski |
| Kaoru Nagumo | Shannon Emerick |
| | |
| | |
| Additional Voices | Christopher Ayres |
| | Cameron Bautsch |
| | Clint Bickham |
| | Shannon Emerick, |
| | Tyler Galindo |
| | Ned Gayle |
| | Adam Gibbs |
| | Houston Hayes |
| | Bryan Kaplun |
| | George Manley |
| | Joel McCray |
| | Margaret McDonald |
| | Stephen E. Moellering |
| | Rob Mungle |
| | Shannon Reed |
| | Gabriel Regojo |
| | John Swasey |
| | Allen Titel |
| | Gareth West |
Title: DEN-NOH COIL COLLECTION 1
Published by: Maiden Japan
Distributed by: Section23 Films
Run Time: 325 min.
Street Date: 6/28/2016
Format: BD, DVD
Language: English & Japanese with English Subtitles
SRP: $69.98, $59.98
SYNOPSIS: Yuko "Yasako" Okonogi and her little sister Kyoko can't remember a time when they weren't looking at the world through their digitally augmented glasses. After all, e-space, a series of world-wide overlays of images and information, is where their virtual dog Densuke lives, and like many kids, the girls rarely take their glasses off. But when their family moves to Daikoku City, the e-space suddenly seems different. Yasako's new classmates are involved in hacking, and the urban legends about dangerous entities hidden in the programming become much more believable when she learns that one of their friends may have died chasing one. Scariest of all, Yasako has missing memories from the last time she was in Daikoku City. Did something happen to her? And did it happen in our world or one that shouldn't even exist? To find out, she'll have to take a journey through the digital looking glass and learn the shocking secrets of DEN-NOH COIL!
Director : Matt Greenfield
ADR Scripts: Tiffany Grant
Hilary Haag as Yasako
Brittney Karbowski as Fumie
Monica Rial as Isako
Kira Vincent-Davis as Kyoko
Tiffany Grant as Densuke
Tiffany Grant as Daichi
Laura Chapman as Specsgranny
Kelly Manison as Yasako's mother
Additional voices:
Tiffany Grant
John Gremillion
Allison Sumrall
------
Scott Green is editor and reporter for anime and manga at geek entertainment site Ain't It Cool News. Follow him on Twitter at @aicnanime.