Ever wanted to peek inside one of those machines? Here's your chance!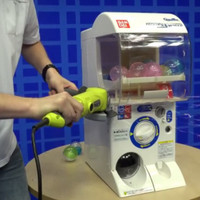 Ever wonder what's inside the popular Japanese toy capsule machines known as gashapon? Well, aside from the colorful little bubbles and the treasures they hide inside, anyway. Daniel and Lincoln Markham, father and son stars of YouTube channel What's Inside? have taken it upon themselves to open up one of the machines to show you exactly what you can find within.

Check out the video below to see how the magic actually happens. Just be advised it may very well shatter your perceptions of how these things deliver you your fun little capsule of awesomeness!
[via RocketNews24]
-------
Fueled by horror, rainbow-sugar-pixel-rushes, and video games, Brittany is a freelancer who thrives on surrealism and ultraviolence. Follow her on Twitter @MolotovCupcake and check out her portfolio for more.