"Sword Art Online" author sold 866,575 copies in six months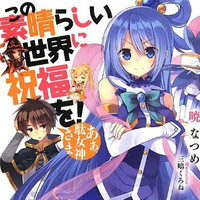 Also according to the Oricon report posted today, the top-selling light novel series in the first half of this year was Natsume Akatsuki's Kono Subarashii Sekai ni Shukufuku wo!/KonoSuba: God's Blessing on This Wonderful World! published from Kadokawa Shoten's Kadokawa Sneaker Bunko imprint. The comedy fantasy series didn't rank even in the top 10 last year, sold lower than 227,000 copies during the same period. But thanks to the well-received 10-episode TV anime adaptation aired from January to March, it sold an impressive 757,412 copies in the first six months of this year, approximately four times more than last year.
Meanwhile, the best-selling light novel volume was the fourth volume of Reki Kawahara's Sword Art Online: Progressive, that sold 284,686 copies, and the second-selling book was the 17th volume of the author's Sword Art Online series with 261,951 copies. In total, the author sold 866,575 bunko copies during the period, ranking seventh in the bunko author ranking.
Light Novel Top 10 Ranking (by series)
1. "KonoSuba: God's Blessing on This Wonderful World!" (Natsume Akatsuki/Kadokawa Sneaker Bunko) - 757,412
2. "Sword Art Online" (Reki Kawahara/Dengeki Bunko) - 489,374
3. "The Irregular at Magic High School" (Tsutomu Sato/Dengeki Bunko) - 371,880
4. "Sword Art Online: Progressive" (Reki Kawahara/Dengeki Bunko) - 321,535
5. "Monogatari Series" (Nisio Isin/Kodansha Box) - 308,471
6. "No Game, No Life" (Yu Kamiya/MF Bunko J) - 304,721
7. " Grimgar of Fantasy and Ash" (Ao Jumonji/Overlap Bunko) - 302,013
8. "Bokyaku Tantei Series" (Nisio Isin/Kodansha Box) - 297,459
9. "Kokuhaku Yokou Renshu" (Touko Fujitani/Kadokawa Beans Bunko) - 280,586
10. "Re: Life in a Different World from Zero" (Tappei Nagatsuki/MF Bunko J) - 263,357
Light Novel Top 10 Ranking (by volume)
1. "Sword Art Online: Progressive" 4 - 284,686
2. "Sword Art Online" 17 - 261,951
3. "The Irregular at Magic High School" 19 - 198,065
4. "No Game. No Life" 8 - 168,737
5. "Wazamonogatari" - 153,066
6. "KonoSuba: God's Blessing on This Wonderful World!" 1 - 122,488
7. "KonoSuba: God's Blessing on This Wonderful World!" 2 - 106,698
8. "The Irregular at Magic High School SS" - 104,267
9. "Haikyu!! Shosetsu-ban!! VI" - 101,596
10. "KonoSuba: God's Blessing on This Wonderful World!" 3 - 100,516
Source: Oricon