Directed by Masahiro Mukai (Hyperdimension Neptunia The Animation)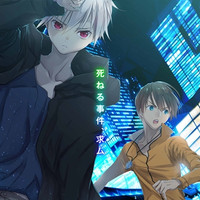 The official website for the upcoming TV anime TRICKSTER today launched with a 60-second first PV introducing its main staff and two main characters: Yoshio Kobayashi (CV: Daiki Yamashita) and Kensuke Hanasaki (Ryota Oosaka). The TMS Entertainment and Shin-Ei Animation-produced series is based on Japanese mystery novel writer Edogawa Ranpo's "The Boy Detective Club" series, and is set to premiere on Tokyo MX, Yomiuri TV and BS11 this October. The TRICKSTER project also plans to include its manga adaptation, stage play and live-action film.
Unlike the original "The Boy Detective Club" series told in the Showa era of Japan, the anime is set in future, the year 203X. 15-year-old Kensuke Hanasaki, a member of the club led by private detective Kogoro Akechi, one day meets a boy named Yoshio Kobayashi. The 14-year-old boy has become immortal after being haunted by mystrious mist. With a strong death wish, he has refused to interact with others. Hanasaki becomes interested in him and asks him to join the club. Their encounter gradually
leads to a deep fatality between Akechi and his rival criminal The Fiend with Twenty Faces.
Main staff:
Director: Masahiro Mukai (Hyperdimension Neptunia The Animation)
Scenarios/Series Composition: Erika Yoshida (Tiger & Bunny, Heroine Shikkaku)
Original Character Design: PEACH-PIT (Rozen Maiden, Shugo Chara!)
Anime Character Design: Shinya Yamada (Your Lie in April animation director)
Music: Yuuki Hayashi (Haikyu!!, My Hero Academia)
Anime Production: TMS Entertainment (Detective Conan), Shin-Ei Animation (Crayon Shin-chan)
1st PV
Teaser visual
Yoshio Kobayashi (CV: Daiki Yamashita)/Kensuke Hanasaki (Ryota Oosaka)
Source: press release
(c)Jordan Morisugi/TRICKSTER Production Committee