The author says, "All thanks to everyone who have read the series."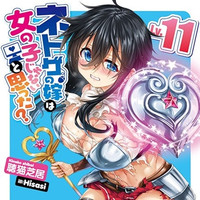 The official Twitter of Kadokawa/Ascii Media Works' Dengeki Bunko imprint announced yesterday that Shibai Kineko's comedy light novel series Netoge no Yome wa Onnanoko ja Nai to Omotta? (And You Thought There is Never a Girl Online?) had finally reached one million print run with its latest 11th volume released in Japan today on June 10. The series illustrated by Hisasi has been published from the imprint since July 2013.
The reason for the rapid increase of sales is obvious. The novel's TV anime adaptation has been aired in Japan since April, and before the announcement of its production in August 2015, a total print run of the novel series was only 500,000 copies. Thanks to the well-received anime produced by project No.9 (Momo Kyun Sword, Girls beyond the youth KOYA), the sales have skyrocketed since the broadcast.
『ネトゲの嫁』のアニメも佳境に入ろうという今日この頃に……どん!明日6月10日、シリーズ最新刊『ネトゲの嫁(略)Lv.11』発売です!そして……ご報告!この巻でシリーズ累計100万部突破です!ありがとうございます! #netoge pic.twitter.com/JomIG17xWl

— 電撃文庫 (@bunko_dengeki) 2016年6月9日
The novel author has posted a thankful comment on Twitter:
"One, One Million-! Truly, all thanks to everyone who have read the series. Thank you so much,
thank you. I'll keep doing my best into the future, so please provide continuous support!"
ひゃ、百万部だー!
本当に、全て読んでくださった皆さんのお力です。
ありがとうございます。ありがとうございます。
この先も頑張ってまいりますので、どうぞよろしくお願いします!

— 聴猫芝居@アニメ『ネトゲの嫁』放送中! (@kinekoshibai) June 9, 2016
Novel 1st and 11th volume covers
Source: Dengeki Bunko Twitter
(C) Shibai Kineko/KADOKAWA CORPORATION 2016