6 different soft cases will be offered beginning in July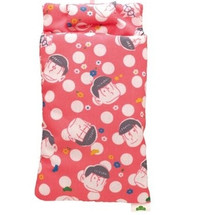 The appetite for Mr. Osomatsu merchandise has not died down one bit since the series ended earlier this year, and that means that manufacturers have been working feverishly to keep up with demand for everything from apparel to toys.
The latest product sure to appeal to the rabid fanbase are soft smartphone cases made to look futons, albeit with different designs for each sibling, and even a "mystery" design. You can view the first 5 confirmed designs below, and the 6th design will be decided at an event to be held later this month on the 24th. The cases will be available starting next month for ¥400.
via Anime!Anime!
---
Humberto Saabedra is the Owner of AnimeNews.biz and a part-time recording engineer. He can also be found musing on things at @AnimeNewsdotbiz