Its serialization on Shonen Jump resumed in April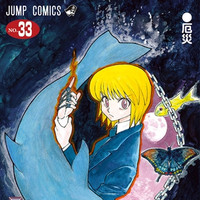 According to the latest report published by Oricon, the 33rd volume of Yoshihiro Togashi's Hunter x Hunter manga takes first place in its weekly manga sales charts selling an impressive 650,817 copies in its first week, 200,000 copies more than the 20th volume of Yusei Matsui's Ansatsu Kyoshitsu/Assassination Classroom in second. The last 32nd volume was released in Japan three and half years ago, December 2012.
The manga started its weekly serialization in Shueisha's Weekly Shonen Jump in 1998, but has taken breaks over 10 times since 1999. The most recent hiatus lasted a year and eight months since the 37th/38th combined issue of 2014 released on August 11, 2014. The reason for his hiatus was explained by the magazine that he had been suffering severe backache. The manga's weekly serialization resumed in the 20th issue published on April 18 of this year, then the 33rd volume was released on June 3.
Manga tankobon 1st and 33rd volume covers
Source: Oricon
© Yoshihiro Togashi/SHUEISHA Inc.