Pick a stamp that really captures your personality!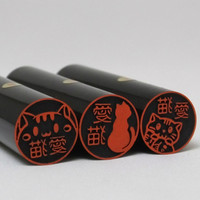 If you love cats and happen to need to sign a lot of documents, you might consider these cat stamps terribly useful. They're also a super cute way for you to get things done quickly.
The Osu Neko "stamping cat" set comes with 11 different designs with sleeping kitties, cats with fish, happy cats, and more. You can put in three characters from kanji, hiragana, katakana, and English letters as well.
There are two varieties available with carrying cases and ink pads included. Check them out here if you're interested!
[via RocketNews24]
-------
Fueled by horror, rainbow-sugar-pixel-rushes, and video games, Brittany is a freelancer who thrives on surrealism and ultraviolence. Follow her on Twitter @MolotovCupcake and check out her portfolio for more.