Details will be revealed at Annecy International Animated Film Festival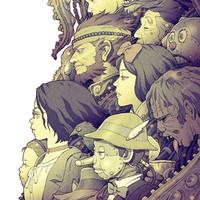 FORCE OF WILL Inc. announced on June 13 that a six-part anthology anime film titled Force of Will the Movie, based on its popular trading card game Force of Will, is in the works for a 2018 release. The length of film is expected to be 90 minutes, and each episode will be 15 minutes long. Details of the film project will be revealed at the Annecy International Animated Film Festival being held in France from June 13 to 18.
The game released its original Japanese edition in October 2012, and has been also available in English, Italian, German, French, Spanish, and Chinese. Its English edition launched in the U.S. in February 2015 ranked fourth in ICv2's "Top Collectible Games" ranking of Fall 2015.
Announced epiosdes and companies:
-A story based on the Cthulu mythology
Company: YAMATO WORKS ("Possessions" in Short Peace)
Director: Shuhei Morita (FREEDOM, "Possessions")
Character Designer: Tatsuyuki Tanaka ("A Farewell to Weapons" in Short Peace)
- A story based on "Journey to the West" (Chinese fantasy novel published in the 16th century)
Company: TWR Entertainment (from Taiwan)
Director: Yuichiro Hayashi (Garo the Animation, Garo: Divine Flame)
Character Designer: Hidetaka Tenjin (Macross Delta visual artist)
- A zombie-featured story
Company: Sublimation (Love Live! Sunshine! music videos)
Director: Shinya Suda (Gatchaman Crowds CGI chief)
Character Designer: Hidekazu Shimamura (Saber Marionette, Nodame Cantabile)
Mechanic Designer: Takayuki Yanase (Expelled from Paradise, Scared Rider Xechs)
- A story based on Carlo Collodi's children novel "The Adventures of Pinocchio"
Director/Writer/CGI Director: Kohta Morie (Transistor Studio)
- An original fairy tail
Company: GranSkyStudios
Director/Character Designer: Makiko Suzuki
- "RAAM -THE BRIDGE TO LANKA-"
(based on Ramayana, one of the two greatest epics in the Hindu Mythology)
Company: RiFF Studio (from Thailand)
Main Visual
Game Trailer for Spring 2015
Source: press release