Cast for Sailor Mercury is replaced by Yume Takeuchi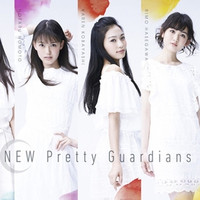 The 20th anniversary site for the Sailor Moon franchise has announced the official title and full cast members for the next Sailor Moon musical series that is scheduled to start this fall. It is also confirmed the "Pretty Guardian Sailor Moon -Amour Eternal-" musical will cover the fourth "Dead Moon" arc of Naoko Takeuchi's original manga story, which was previously told in the 1995-1996 TV anime series Sailor Moon SuperS.
In addition to Yuga Yamato as Mamoru Chiba/Tuxedo Mask, all of the four cast for the guardians of outer solar system: Sailor Uranus, Sailor Neptune, Sailor Pluto, and Sailor Saturn, from the previous shows, will reprise their roles in "-Amour Eternal-." However, Hikari Kuroki, who was originally announced as Sailor Mercury/Ami Mizuno, is replaced by Theatre Academy's 16-year-old Yume Takeuchi due to her circumstance. The costume visuals of the new Pretty Guardians were originally planned to be revealed on June 10, but due to the cast change, it has been postponed to some future data.
The new musical show is scheduled to perform at AiiA 2.5 Theater Tokyo from October 15 to 23, then
at Canal City Theater in Fukuoka from October 29 to 30 and at Sankei Hall Breeze in Osaka from
November 4 to 6. General sales of its advance tickets will begin at 10:00 on August 21.
New Musical Main Cast:
Sailor Moon/Usagi Tsukino: Hotaru Nomoto (19 years old)
Sailor Mercury/Ami Mizuno: Yume Takeuchi (16 years old)
Sailor Mars/Rei Hino: Karen Kobayashi (19 years old)
Sailor Jupitor/Makoto Kino: Kaede
Sailor Venus/Minako Aino: Rimo Hasegawa (17 years old)
Sailor Uranus/Haruka Tenoh: Shu Shiotsuki
Sailor Neptune/Michiru Kaioh: Sayaka Fujioka
Sailor Pluto/Setsuna Meioh: Mieko Ishi
Sailor Saturn/Hotaru Tomoe: Karin Takahashi
Sailor Chibi Moon/Chibiusa: Airi Kanda
Helios: Hikaru Hirayama
Mamoru Chiba/Tuxedo Mask: Yuga Yamato
Teaser visual including the initial Sailor Mercury cast Hikari Kuroki (second from the left)
Source: Sailor Moon 20th anniversary project official website
© Naoko Takeuchi
© Naoko Takeuchi, PNP/Kodansha, Nelke Planning, Dwango