Five voice cast of the show will join a talk show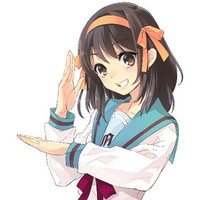 Kadokawa today announced that two screening events for the 10th anniversary of the first season of The Melancholy of Haruhi Suzumiya TV anime series will be held at Tachikawa Cinema City in Tokyo and Tsukaguchi Sunsun Theater in Hyogo on July 9. The first TV anime adaptation of Nagaru Tanigawa's Haruhi Suzumiya light novel series was aired for 14 episodes in Japan from April to July 2006.
The event titled "Suzumiya Haruhi no Gokuon/Hell Sound of Haruhi Suzumiya" will screen all of the 14 episodes using each theaters' special sound system to provide "maximum sound experience." Five original cast from the show: Minori Chihara (Yuki Nagato), Yuko Gotoh (Mikuru Asahina), Natsuko Kuwatani (Ryoko Asakura), Yuki Matsuoka (Tsuruya-san), and Minoru Shiraishi (Taniguchi) are scheduled to join a talk show at Tachikawa Cinema City, and it will be also live-screened at Tsukaguchi Sunsun Theater. Unfortunately, the two main voice cast of the anime, Aya Hirano (Haruhi Suzumiya) and
Tomokazu Sugita (Kyon) are currently not included in the guest list.
The price for the advance ticket is 3,500 yen, and all the audience will get a 10th anniversary special bottle
cap. Advance entries for the tickets will be accepted till June 20.
「涼宮ハルヒの憂鬱」放送開始10周年を記念して、第1期シリーズ一気見極上音響上映会『涼宮ハルヒの獄音』の開催が決定いたしました!詳細はこちらをご確認ください。https://t.co/FjfrlTZWIr pic.twitter.com/vM90F5o8j5

— KADOKAWAアニメ公式 (@k_shoten_anime) June 17, 2016
Source: "Haruhi Suzumiya" anime franchise official website