"Diamond Is Unbreakable" DVD/Blu-ray 1st volume will be released next Wednesday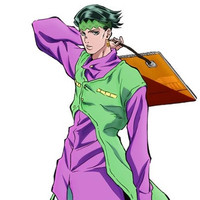 The Japanese official website for the ongoing TV anime JoJo's Bizarre Adventure: Diamond Is Unbreakable confirmed today that "Fugou Mura (Millionaire Village)," the 46-page 5th episode of Hirohiko Araki's Kishibe Rohan wa Ugokanai/Thus Spoke Kishibe Rohan manga series will be animated as an OVA, and it will be distributed to customers who buy all 13 DVD or Blu-ray volumes of the Diamond Is Unbreakable anime. Each disc comes with one entry coupon, and you need to send all the 13 coupons to receive the bonus OVA. The last 13th DVD/Blu-ray volume is scheduled to be released on June 28, 2017.
"Fugou Mura" was initially published in Weekly Shonen Jump's 45th issue of 2012 as a one-shot story, then later included in the "Kishibe Rohan wa Ugokanai" tankobon released in November 2013. The story is set in a remote village in the heart of the mountain area, located 80km northwestward of Morioh-cho, where only millionaires live. All of them became rich when they bought a resort area
in the village at the age of 25. Rohan, who is 25 years old now, decides to visit there to collect data for
his next manga story.
「岸辺露伴は動かない」アニメ化されるのは「富豪村」!全巻購入特典DVDに https://t.co/kPd9O7ozab pic.twitter.com/gYa1KMOXbC

— コミックナタリー (@comic_natalie) June 18, 2016
"Kishibe Rohan wa Ugokanai" tankobon cover
Source: "JoJo's Bizarre Adventure: Diamond Is Unbreakable" TV anime official website via: Comic Natalie
© LUCKY LAND COMMUNICATIONS/Shieisha, JoJo's Bizarre Adventure: Diamond Is Unbreakable Production Committee © LUCKY LAND COMMUNICATIONS/Shueisha