Latest 5th tankobon volume will be released on July 26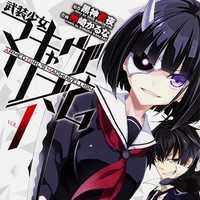 Kadokawa's official website for Yuuya Kurokami (story) and Karuna Kanzaki (art)'s school battle action manga Busou Shoujo Machiavellism/Armed Girl's Machiavellism confirmed today that its anime adaptation is in the works.
The manga has been serialized in Kadokawa's Monthly Shonen Ace since March 2014, and its latest 5th tankobon volume is scheduled to be released on July 26. Other details of the anime including its production company will be revealed in the magazine's next August 2016 issue featuring the manga on its cover, to be released on June 25 .
The story centers on high school boy protagonist Fudou Nomura who loves freedom. He is transferred to Aichi Kyousei (Symbiosis) Academy whose male students are ruled by armed female students with weapons. Fudou soon faces Rin Onigawara, one of the five-member "Tenka Goken (Supreme Five Swords)"
who have controlled the school, and is challenged to a duel by her. Will he be able to survive the school
life without a sword?
Announcement tweet by Karuna Kanzaki
アニメ化決定致しました!!スタジオさん等は本誌にて!あとアニメに先駆けて朗読劇化も決定しました!!皆様の応援に支えられてここまで来れました。今後もどうぞよろしくお願いします! pic.twitter.com/jL9ralcwgg

— 神崎かるな (@kanzakikaruna) June 20, 2016
Shonen Ace August 2016 issue cover announcing the anime project
A live-reading performance is also planned by Project Luna in 2017
【最新情報】
プロジェクトルナ新企画
THELIVEREADING「武装少女マキャヴェリズム」(原作・黒神遊夜/作画・神崎かるな/株式会社KADOKAWA・月刊少年エース連載)
2017年上演決定です!
詳細は後日発表いたします。 pic.twitter.com/iAIbozuQ59

— プロジェクト・ルナ (@projectluna2014) June 20, 2016
Manga tankobon 1st and 2nd volume covers
3rd and 4th
PV for the manga
Source: Kadokawa
©KADOKAWA CORPORATION