125mm-tall deformed figure will be shipped in November 2016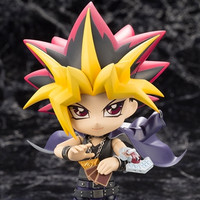 Japanese figure company Kotobukiya today listed a 125mm-tall figure of Yami Yugi/Dark Yugi from the Yu-Gi-Oh! Duel Monsters franchise on its deformed figure line Cu-poche for a November 2016 release. Yami Yugi is the 31st entry in the line and its first male character. Cu-poche was launched in April 2013 and has released many female figures from popular anime titles including The [email protected], Oreimo, Madoka Magica, KanColle, and Girls und Panzer.
The 5,400-yen set includes the Millennium Puzzle, Duel Disc, detachable school uniform jacket, three face parts, five hand parts, and a custom stand. According to the Yu-Gi-Oh! anime's official Twitter, Gagaga Girl from Yu-Gi-Oh! ZEXAL and Pharaoh Atem from Duel Monsters are already set to be released.
Source: Kotobukiya
© Kazuki Takahashi Studio Dice/Shueisha, TV Tokyo, NAS