The main cast of the live-action film will be revealed soon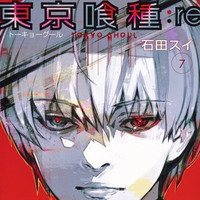 According to the latest Oricon report, the 7th volume of Sui Ishida's dark fantasy manga series Tokyo Ghoul:re that released in Japan on June 17 sold an impressive 342,574 copies in its first week, taking top place in its comic sales ranking for the week ended June 19. The second top-selling title was the 21st volume of Nakaba Suzuki's The Seven Deadly Sins with 219,503 copies, and the third was the 7th volume of Maki Miyoshi's P to JK with 125,320.
Ishida's Tokyo Ghoul series including its 14-volume original series has reportedly printed 18 million copies in Japan. Soon after the announcement of the manga's live-action film adaptation project, he said on his official Twitter that adaptations of his works, including anime, are basically things that are not necessary need to be made and he has not been particularly interested in a live-action film. But the actor who is cast as the protagonist is the one he had wanted to play the character since four or five years ago when he started the serialization of the manga.
Ishida has supervised the screenplay and joined the audition for some other cast. According to him, the
main cast of the film will be revealed soon and they are "fantastic actors."
東京喰種:re⑦巻は、本日6/17(金)より発売しております。よろしくお願い致します。 pic.twitter.com/llM4iqBsK0

— 石田スイ (@sotonami) June 17, 2016
"Tokyo Ghoul:re" 7th volume
"The Seven Deadly Sins" 21st volume and "P to JK" 7th volume
Source: Oricon, Sui Ishida Twitter