10-limited high quality item will be shipped in late October 2016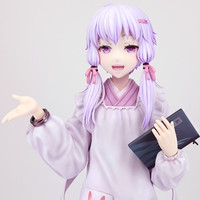 Aichi-based human scale figure company FIGUREX has started accepting pre-orders for a 157.7cm tall figure of Yuzuki Yukari, one of the vocaloid characters produced by Vocalomakets, at the price of 1,280,000 yen (about 12,550 US dollars) for a late October 2016 release. Only ten units will be sold in Japan. The company was established in February 2010, and has released human scale figures of Izumi Matsumoto (image character for Izumi Products Company) and Ichimatsu Matsuno (Osomatsu-san).
Yuzuki Yukari was originally released for the Vocaloid 3 engine by AH Software in December 2011. Her official arts including the one for the software package were drawn by Japanese illustrator Ju Ayakura, and this pre-painted PLA figure wearing Kappogi (coverall apron) is based on his illustration for Geo Nexus's BellFocus call bell service. The figure also contains a speaker in its body, so you can make her play your favorite music, or even speak with her own voice.
PV
Original illustration by Ju Ayakura
Product photos
Source: press release
©2016 VOCALOMAKETS Powered by Bumpy Factory Corporation.