Takahiro Sakurai nel ruolo di Riichi Miura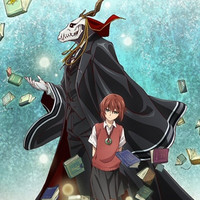 Il sito ufficiale del progetto anime ispirato al manga fantasy Mahou Tsukai no Yome/The Ancient Magus' Bride ha pubblicato oggi l'immagine ufficiale e un trailer da 70 secondi del primo OAD. Il progetto è tratto dalla storia originale dell'autrice Kore Yamazaki dal titolo Hoshi Matsu Hito (La Persona che aspetta le Stelle) e ogni episodio sarà distribuito con un volume del manga: il primo con il sesto volume il 10 settembre 2016, il secondo con il settimo il 10 marzo 2017 e il terzo con l'ottavo il 9 settembre 2017.
La prima parte narra dedi cosa accadde alla protagonista Chise Hatori quando aveva otto anni, molto prima di incontrare Elias Ainsworthis. Sarà proiettato nei cinema per due settimane a partire dal 13 agosto.
In Italia il manga originale è edito da Star Comics.
Trailer primo OAD
Immagine ufficiale del primo OAD
【新情報解禁】「魔法使いの嫁 星待つひと 前篇」のメインビジュアルが解禁となりました!チセとエリアスそして幼少期のチセが描かれたビジュアル!(宣伝ひげ) #まほよめ https://t.co/vrG4IRTSfj pic.twitter.com/pjYH66EYwT

— 魔法使いの嫁アニメ化プロジェクト (@mahoyomeproject) June 24, 2016
Chise a otto anni
【設定/キャスト】8歳のチセ。他者に見えないものが見えることで周りから訝しがられ、孤立してしまっている。(宣伝ひげ) #まほよめ pic.twitter.com/gIdHwETEYr

— 魔法使いの嫁アニメ化プロジェクト (@mahoyomeproject) June 24, 2016
Riichi Mura, personaggio originale doppiato da Takahiro Sakurai
【設定/キャスト】そして、新キャラクター三浦理一。幼少期のチセが出逢う謎の青年。演じられるのは櫻井孝宏さん!(宣伝ひげ) #まほよめ pic.twitter.com/BPJ4TMd5Qo

— 魔法使いの嫁アニメ化プロジェクト (@mahoyomeproject) June 24, 2016
---
Video promozionale
Staff principale:
Regia: Norihiro Naganuma (Yowamushi Pedal The Movie)
Scenario: Aya Takaha (Psycho-Pass)
Character Design: Hirotaka Kato (Hozuki no Reitetsu)
Arte: Bamboo
Musiche: Flying Dog
Realizzazione animazioni: WIT STUDIO (L'Attacco dei Giganti)
Distribuzione: Shochiku
Produzione: Production I.G
Doppiatori:
Chise Hatori: Atsumi Tanezaki (Moe Nishinosono in The Perfect Insider)
Elias Ainsworth: Ryota Takeuchi (Heroman in HEROMAN)
Ruth: Kouki Uchiyama (Banagher Links in Mobile Suit Gundam Unicorn)
Silky: Aya Endoh (Totoko in Mr. Osomatsu)
Angelica Barlei: Yuko Kaida (Marida Cruz in Mobile Suit Gundam Unicorn)
Hugo: Misaki Kuno (Hawk in The Seven Deadly Sins)
Fonte: "Mahou Tsukai no Yome" sito ufficiale, Twitter
Copyright © 2016 MAG Garden corp. All rights Reserved.