She is set to voice Erica in the Berserk TV anime this summer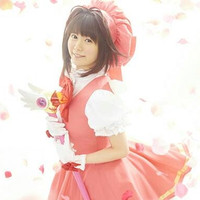 One day after her 27th birthday, popular anime voice actress Ayana Taketatsu today posted two photos of her cosplaying as Sakura Kinomoto from the Cardcaptor Sakura franchise on her official Twitter to give thanks to her fans who celebrated her birthday and to commemorate 500,000 followers. She bought all of the costumes and accessories by herself. She once said in an interview with Kindai Eigasha's Seiyu Princess magazine published in 2009 that Cardcaptor Sakura and Pretty Guardian Sailor Moon made her decide to become a professional voice actress.
She is best known as Azuza Nakano in K-ON!, Kirini Kousaka in Ore no Imouto ga Konnani Kawaii Wake ga Nai, and Leafa/Suguha Kirigaya in Sword Art Online. In this summer 2016 season, she is cast as Erica in Berserk.
昨日はたくさんお祝いしてくれてありがとうございました!
とても楽しくてあっという間の一日でした!
「お祝いしてくださったせめてものお礼」と「Twitterフォロワー50万人記念」としてCCさくらのコスプレをした26歳の私を載せます! pic.twitter.com/62lEUXLVPz

— 竹達 彩奈 (@Ayana_take) 2016年6月24日
Source: Ayana Taketatsu official Twitter