Tokyo performances attracted over 100,000 audience in two months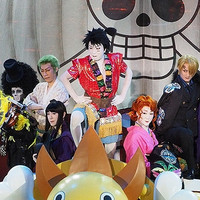 Shochiku has posted a 30-second teaser for "Cinema Kabuki One Piece," an upcoming two-hour film that filmed the Tokyo Shinbashi Enbujo performance of "Super Kabuki II One Piece,", starring 40-year-old kabuki actor Ennosuke Ichikawa IV as Monkey D. Luffy, Boa Hancock and Shanks. Th film version opens in Japan on October 22.
The kabuki adaptation that covered the Battle for Marineford/War of the Best arc in Eiichiro Oda's original One Piece manga story first performed 78 times at Shinbashi Enbujo in Tokyo from October 7 to November 25, 2015. The tickets were all sold out, attracting over 100,000 audience in the two months. Then it moved to Osaka's Shochikuza from March 1 to 15 (40 performances), and Fukuoka's Hakataza from April 2 to 26 (39 performances).
Teaser
Poster visual
---
30-second CM for Hakataza
15-second CM for Osaka Shochikuza
Ennosuke Ichikawa as Luffy
Main visual drawn by Eiichiro Oda
Source: Shochiku
© Eiichiro Oda/Shueisha, Super Kabuki II "One Piece" Partners