With this weekend's conclusion of "Kiznaiver," Crunchyroll has been able to share a translation of some of "PASH!'s features, outlining the creative decisions that went into the show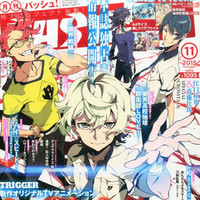 Last fall, the November 2015 issue of anime magazine PASH! first revealed the title of Trigger original anime Kiznaiver, along with the outline that Hiroshi Kobayashi would be making his directorial debut on the production, written by Mari Okada with illustrator/manga author Shirow Miwa on character designs. With this weekend's conclusion of Kiznaiver, Crunchyroll has been able to share a translation of some of PASH!'s features, outlining the creative decisions that went into the show.

PASH! Brings You the Latest Info!!
Kizna Timeline
No. 1 in the series

Scar and school details revealed: more of the series comes to light

After the first unveiling of information via the November volume of PASH! and TRIGGER's official website, the series was met with an outpouring of attention in the blink of an eye. Since only a fraction of the series has been revealed as of yet, there's no doubt that many of you are already excited for the broadcast to begin... so, just for you, we're delivering yet another round of new information in this issue! The details coming to light this month include the mark of scars engraved on the Kiznaivers' left arms and the artistic setting of the school they attend, Sugomori High School. Try to imagine what kinds of lives Agata Katsuhira and the rest of the seven Kiznaivers lead at this school with Sonozaki Noriko, the one who set them up to become Kiznaivers, as you read this special feature. PASH! will continue to bring you the latest info on this series as it comes, so look forward to future issues as well♪

KIZNAIVER DATA

ON AIR: Dates TBA
HP: http://kiznaiver.jp/ Twitter: @kiznaiver
©TRIGGER - Mari Okada / KIZNAIVER Production Committee
STAFF: Director = Hiroshi Kobayashi, Series Composition & Screenplay = Mari Okada, Original Character Designs = Shirow Miwa, Character Designs = Mai Yoneyama, Animation Production = TRIGGER, Production = KIZNAIVER Production Committee

TRIGGER's original anime, "KIZNAIVER," became a hot topic the moment the earliest information on the series was revealed. This issue reveals the design of the scar carried by all the Kiznaivers, as well as the artistic setting, before any other source! Also featured is a solo interview with the director, Hiroshi Kobayashi.

Agata Katsuhira
The main character, and a second-year in high school. He is essentially numb to his own pain, both physical and emotional, and is unable to display any interest in other people. He is sorely lacking in emotion and personality.

↑The fully detailed design of the mark engraved on the arms of the Kiznaivers. Shows three horizontal and two vertical lines. It also looks a bit like キ, the first character in the words "kizuna (bond)" and "kizu (wound)," doesn't it...?

CHECK! The Kiznaivers' Scar
One day, Katsuhira and six of his schoolmates are suddenly put through surgery and told by Sonozaki that they've been forcefully turned into "Kiznaivers," people who share one another's pain. The scars left near Katsuhira's left wrist appear as an elongated design wrapping around his arm. That scar is the mark of a Kiznaiver.

Artwork by: Satomi Tamura Finished by: Noriko Komada




Sugomori Private High School
The art board for Sugomori Private High School, the school attended by Katsuhira and the other Kiznaivers, is revealed! The anime's story unfolds in this school and the surrounding city of Sugomori.

←The Sugomori High School rooftop. Strange cube-shaped objects are arranged in neat lines. It appears to have an uninterrupted view of the city as well.
→Part of the route to Sugomori High School. Set apart from the big city a bit, it seems to have lots of natural scenery. Perhaps because the city was built on reclaimed land?

The Kiznaivers, marked with a scar, and one girl.
Katsuhira and the other seven characters are classmates, but otherwise, they share very little connection at all. What are the intentions of Sonozaki, the girl who "connected" them...?

Hisomu Yoshiharu Tenga Hajime Takashiro Chidori Agata Katsuhira Sonozaki Noriko Yuta Tsuguhito Maki Honoka Niyama Nico

Direct Interview with Director Hiroshi Kobayashi
Director Hiroshi Kobayashi has drawn attention for his storyboard and production work with TRIGGER long before "Kiznaiver." We had him share his thoughts on this series, his first directorial work, with us before anyone else!

A work "unlike typical TRIGGER," depicting what's in the heart

—Can you tell us how you became involved with this series?
While I was working on "Kill la Kill," I came across a proposal for a series called "Kiznaiver" in the office. At the time, I didn't think any more of it than "Oh, there's a proposal for a show like this?" But then I was approached about it and ended up joining the staff.

—This is your first time directing a series.
And the pressure is intense! There was a countdown leading up to the reveal of information on the TRIGGER website, but from the moment it was decided that the series would be announced, it felt like I was trapped in a jail cell on death row and wouldn't be let out until I reached the finish line.

—What did you think when you first saw the proposal?
I thought it was a strange proposal, and one unlike typical TRIGGER. But at the same time, I thought it was a great proposal with an exceptionally clear concept. It had the catch phrase "We are bound by our wounds," which directly connected to the title, "Kiznaiver," and the story it intended to tell. Also, the themes of "wounds" and being "connected" seemed very modern, so it seemed in line with the day and age we live in. Young people these days have far more opportunities to connect with others thanks to the popularization of SNS, and I feel like the relationships born from that carry a lot of weight. In that sense, I think this is the sort of story that will resonate most readily with our main target audience.

—Can you tell us in detail why you consider it a work "unlike typical TRIGGER"?
Some of the core members of TRIGGER, like Hiroyuki Imaishi-san (Kill la Kill director) and Yoh Yoshinari-san (Little Witch Academia director), have the image of working on more "boyish" projects, the type that sort of give an impression of "iron and blood." My impression was that this work didn't seem to fit the genre that TRIGGER's staff tends to excel in.

—How much of the project was finalized by the time you joined the staff?
The characters, and the general concept of the story before it became a series synopsis, I think. The biggest change to the story after I joined the staff was to turn it from a battle-heavy work into one that depicts what's in the characters' hearts, the sort of thing Okada-san specializes in. Even though there are already eight main characters to flesh out, I knew that adding a lot of battle elements would make Okada-san want to flesh out the inner hearts of the enemies, too! And if that happened, it would exceed the scope of a TV show, so I suggested that it might be better to keep the focus on those eight main characters instead. I remember the staff very easily agreed to that. I've been involved with a few battle-centered series before, but truthfully, action is not my strong suit. I have an easier time depicting the time leading up to a character's final resting place than depicting battle scenes. I consider it ideal to get battle scenes taken care of in one cut and be done with it.

—What sort of discussions did you have with the writer, Mari Okada-san?
Rather than offering new ideas myself, most of our discussions involved me opening up Okada-san's stores of knowledge and ideas one by one, then closing them, then opening them again, in order to draw ideas from her. Sort of like traffic control. I worked with Okada-san on "Black☆Rock Shooter," and in the last episode, the main character said, "I want to be hurt." That left the impression in me that Okada-san has a way of thinking about that as the basis of human communication. So when I saw the title and story for this series, I could, in my own way, see the things that she would want to write, and the writer's side of her that possesses this "root of human relations."

—What did you think when you saw Shirow Miwa-san's original character designs?
I thought, "What am I gonna do? These look too amazing..." (laughs) I've read Miwa-san's works, so I've always thought his art would be difficult to reproduce in anime form. By the way, the one that caught my eye the most was his drawing of Tenga.

—What have you discussed with the character designer Mai Yoneyama-san that left an impression on you?
Katsuhira's hair color just recently changed from brown to white. This was Yoneyama-san's idea. The series has plenty of the sort of colorful characters that are unique to anime, but among them, Katsuhira is the most impersonal and "colorless." So we thought white hair would fit Katsuhira's concept. She tends to have a stronger attachment to the characters than I do, so I really appreciate it when she offers opinions like that to me.

—Finally, a message for the readers of PASH!
Production has only just begun, so I and the rest of the staff are still fumbling around with the characters. But we are giving it our best, so I hope you'll all watch the series.

↑The most unique-looking part of the school: the big staircase. We can see several of what appear to be wires forming curves along the ceiling.

↑The view from the top of the big staircase. There are a lot of stairs and the ceiling is extremely high. Probably quite unusual for a school layout?

------
Scott Green is editor and reporter for anime and manga at geek entertainment site Ain't It Cool News. Follow him on Twitter at @aicnanime.