Starts Sunday, July 3 at 8:30am PT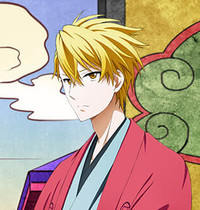 Summer's here and the time is right for even more new streaming anime announcements from Crunchyroll, and the latest down the pike is The Morose Mononokean (AKA Fukigen na Mononokean) based on the manga by Kiri Wazawa.

The Morose Mononokean will be launching on Sunday, July 3 at 8:30am PT for Crunchyroll members in the following territories: U.S.A., Canada, United Kingdom, Ireland, Australia, New Zealand, South Africa, Sweden, Denmark, Norway, Finland, Iceland, Netherlands, Latin America (Central and South America including Caribbean), German and French speaking Europe.
About The Morose Mononokean
"Exorcism" is the art of sending yokai who have somehow wandered into the living world back into the underworld, where they belong.


One day Hanae Ashiya, a high school student who's been haunted by a yokai, happens to find the contact information of an exorcist called the "Mononokean" and pays him a visit. The exorcist he meets is a morose-looking young man, Haruitsuki Abeno, and for various reasons Ashiya ends up working for the Mononokean...


And so the story of the exorcist duo Ashiya and Abeno, and the yokai they meet in their adventures, begins.
Main voice cast:
Hanae Ashiya: Yuki Kaji (Eren Yeager in Attack on Titan)
Haruitsuki Abeno: Tomoaki Maeno (Son Hak in Yona of the Dawn)
Zenko Fujiwara: Ayahi Takagaki (Manny Anbasada in Gundam Reconguista in G)
Yahiko: Ikue Ohtani (Pikachu in Pocket Monster)
Koura: Yoko Hikasa (Mio Akiyama in K-ON!)
Shizuku: Chinami Hashimoto (Chito Kurihara in Prison School)
Rippou: Junichi Suwabe (Keigo Atobe in The Prince of Tennis)
Don't forget, you can read the original manga The Morose Mononokean on Crunchyroll manga right now!


Patrick Macias is editor in chief of Crunchyroll News & Otaku USA magazine.
He is also the writer of HYPERSONIC music club, Paranoia Girls, & PARK Harajuku: Crisis Team!