Starts Fri/1 at 7:30am PT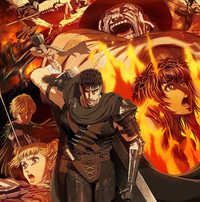 The Berserk anime was previously announced as a highlight of Crunchyroll's summer lineup, but now we have more info for you regarding the stream, including times and regions, so here we go...
Berserk launches Friday, July 1 at 7:30am PT for Crunchyroll members worldwide except for Asia, New Zealand, and Australia!
About Berserk
Strike with your iron.
"That night" comes once again... The night of battle where the "Black Swordsman" roars.
The "Berserk" manga is the pinnacle of Japanese dark fantasy and an overwhelming presence in the Japanese entertainment world. Extremely popular not only in Japan but all over the world, a new anime adaptation of the manga finally gets underway.
Spurred by the flame raging in his heart, the Black Swordsman Guts continues his seemingly endless quest for revenge. Standing in his path are heinous outlaws, delusional evil spirits, and a devout child of god. Even as it chips away at his life, Guts continues to fight his enemies, who wield repulsive and inhumane power, with nary but his body and sword—his strength as a human.
What lies at the end of his travels? The answer is shrouded in the "night."
Strain your eyes and stare into the dark!
Key Visuals
Director: Shin Itagaki
Series configuration: Makoto Fukami
Series configuration assistant: Takashi Yamashita
Main Character Design: Hisashi Abe
Music: Shirō Sagisu
Insert song: Susumu Hirasawa
Opening Theme: 9mm Parabellum Bullet
Ending Theme: Nagi Yanagi (
Production: LIDEN FILMS
Animation production: GEMBA / millepensee

Cast:
Guts: Hiroaki Iwanaga
Puck: Kaoru Mizuhara
Farnese: Yōko Hikasa
Serpico: Kazuyuki Okitsu
Isidro: Hiro Shimono
Azan: Hiroki Yasumoto
Casca: Toa Yukinari
Griffith: Takahiro Sakurai
Skull Knight: Akio Ōtsuka
Narration: Unshou Ishizuka
Nina: Natsumi Takamori
Jerome: Daisuke Hirakawa
Erica: Ayana Taketatsu
Rickert: Minako Kotobuki
Godot: Takashi Inagaki
Silat: Yuichi Nakamura
Tapasa: Koji Ishii
Mozgus: Rikiya Koyama
Patrick Macias is editor in chief of Crunchyroll News & Otaku USA magazine.
He is also the writer of HYPERSONIC music club, Paranoia Girls, & PARK Harajuku: Crisis Team!