All 13 episodes available on July 1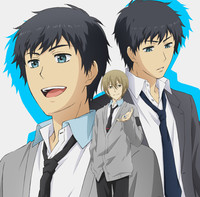 Following last week's announcement on the Crunchyroll ROLLOUT special, the ReLIFE anime has now been given its launch date and regions. To quote from the Site News annoucement:

ReLIFE will be launching on Friday, July 1 at 8am with episode 1, and episodes 2-13 available later in the day for Premium members. Free members will be able to catch episode 1 on July 1 as well, with subsequent episodes available later.

ReLIFE will be available to Crunchyroll members WORLDWIDE except for: Japan, China, North Korea, and Syria.
About ReLIFE
Arata Kaizaki (27) quit the job he landed after graduation in only three months. His life did not go well after that. Now his parents are threatening to stop sending money, and want him to come back to the country. He has no friend or girlfriend to share his troubles with...as he hits rock bottom a strange man named Ryo Yoake appears. Yoake invites Kaizaki to join a societal rehabilitation program for NEETs called ReLife. This program uses a mysterious drug to make him look younger, and sends him back to high school for a year...
Director: Tomo Kosaka (Case Closed animator)
Series Composition: Michiko Yokote (Prison School) / Kazuho Hyodo (Himegoto)
Character Design / Chief Animation Director: Junko Yamanaka (Case Closed animator, Aoharu x Machinegun animation director/character designer)
Color design: Miyuki Isogai
Art Director: Kentaro Akiyama
Art setting: Tomoko Zama
Director of Photography: Nozomi Shitara
Editing: Kumiko Sakamoto
Music: Masayasu Tzboguchi
Sound Director: Shoji Hata
Sound Production: HALF H · P STUDIO
Animation Production: Junko Yamanaka
Leads include
Arata Kaizaki: Kenshō Ono

Chizuru Hishiro: Ai Kayano

Ryo Yoake: Ryōhei Kimura

Reina Kairu: Haruka Tomatsu

Kazuomi Ōga: Yuuma Uchida

An Onoya: Rena Ueda
Honoka Tamarai: Himika Akaneya
Akira Inukai: Noriaki Sugiyama
Nobunaga Asaji: Daisuke Namikawa
Don't forget that the manga is also available on Crunchyroll Manga as well, so if you want to read/watch both in tandem, be sure to check it out!


Patrick Macias is editor in chief of Crunchyroll News & Otaku USA magazine.
He is also the writer of HYPERSONIC music club, Paranoia Girls, & PARK Harajuku: Crisis Team!