Starts Saturday, July 2 at 7AM Pacific Time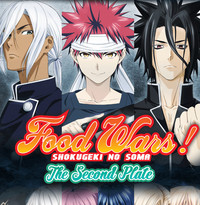 You guys asked and now Crunchyroll is delivering..... a second helping of Food Wars! The Second Plate!

Food Wars! The Second Plate starts Saturday, July 2 at 7AM Pacific Time for members in the following territories: USA, Canada, UK, Ireland, Australia, New Zealand, South Africa, Latin America, the Middle East and North Africa, Netherlands, Scandinavia, Turkey, Austria, Bulgaria, Comoros, Czech Republic, Estonia, Germany, Greece, Hungary, Latvia, Liechtenstein, Lithuania, Poland, Portugal, Republic of Croatia, Romania, Slovakia, Slovenia, Spain.


About Food Wars! The Second Plate

Yukihira Soma has been helping out at his family diner his entire life. Upon graduating from junior high, he is prompted by his father to join an elite cooking school, Totsuki Teahouse Culinary Academy, where less than 10% of students have been known to make it to graduation. Soma overcomes many challenges and hones his culinary skills, meeting like-minded classmates and influential figures in the student body along the way.

Soma eventually wins the right to compete in the academy's traditional Autumn Elections where only the chosen few first-years are allowed entry. Soma loses to his opponent by a single point, but makes it into the next round along with Megumi, Takumi, Hisako, Alice, Kurokiba, Hayama, and Mimasaka. Whom among them will be his next opponent, and who will emerge victorious?