Si parte il 5 luglio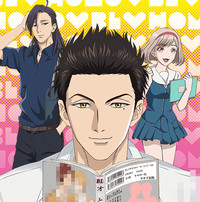 Crunchyroll è lieto di comunicare che The Highschool Life of a Fudanshi, tratto dal manga Fudanshi Koukou Seikatsu di Atami Michinoku sulle vicende di uno studente eterosessuale con un'ardente passione per i manga Boys Love, si aggiunge alla proposta simulcast estiva.
The Highschool Life of a Fudanshi sarà disponibile ogni martedì alle 17:00 (orario italiano) a partire dal 5 luglio.
A proposito di The Highschool Life of a Fudanshi
Sakaguchi è un normale studente delle superiori, proprio come tutti gli altri. Ha solo una profonda passione per il Boys' Love. Potrebbe vivere solo di quello! The Highschool Life of a Fudanshi è un divertente slice of life che narra del fudanshi Sakaguchi e della sua allegra combriccola.
Interpreti

Ryou Sakaguchi: Wataru Hatano (Kyou Goshouin in And You Thought There Is Never A Girl Online?)
Toshiaki Nakamura: Kenji Nojima (Mamoru Chiba in Sailor Moon Crystal terza stagione)
Rumi Nishihara: Aya Suzaki (Mako Mankanshoku in Kill la Kill)
Yuujirou Shiratori: Tatsuhisa Suzuki (Makoto Tachibana in Free!)
Akira Ueda: Toshiki Masuda (Toranosuke Miyamura in Yamada-kun and The Seven Witches)
Taigo: Koutarou Nishiyama (Yoshiharu Hisomu in Kiznaiver)
Staff

Regia: Toshikatsu Tokoro (Soul Link)
Character Design: Chinatsu Ishida
Direttore del suono: Nobuyuki Abe
Produzione: Dream Creation
Produzione sonoro: DAX Production
Wataru Hatano interpreta la sigla di apertura "SEKAI wa Boy Meets Boy♂"