Four-member rock band's 8th major single will be available on July 20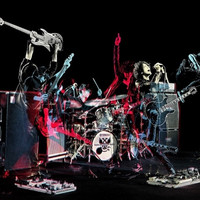 Four-member Japanese rock band 9mm Parabellum Bullet has posted a 90-second full music video for their 8th major single "Inferno" on their official YouTube channel. The hard rock tune is newly written as the OP theme for the upcoming TV anime adaptation of Kentaro Miura's dark fantasy action manga Berserk. The 90-second song is composed to just fit the length of the anime's OP movie. The CD single will be released on July 20.
The highly anticipated Berserk TV anime launches Friday, July 1 at 7:30am PT for Crunchyroll members worldwide except for Asia, New Zealand, and Australia.
"Inferno" MV
CD jacket
9mm Parabellum Bullet artist photo
"Berserk" trailer with English subtitles
Japanese PV
Main visual
Source: 9mm Parabellum Bullet official website
Copyrights(C)9mm Parabellum Bullet ALL Rights Reserved.
© Kentaro Miura (Studio GaGa), Hakusensha/Berserk Production Committee