A diverse selection of simulcast titles including moe NEW GAME, bishonen B-PROJECT and busty Hybrid x Heart Magias Academy Ataraxia, plus Hitorinoshita - The Outcast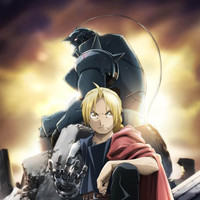 Crunchyroll had a host of anime to announce at their Anime Expo fan, starting with the addition of Fullmetal Alchemist Brotherhood (both subbed and dubbed) and Bananya to their library of streaming anime. Additionally, a diverse selection of titles including moe NEW GAME, bishonen B-PROJECT and busty Hybrid x Heart Magias Academy Ataraxia, plus Hitorinoshita - The Outcast joined its summer 2016 simulcast lineup.
Looking forward to the launch of Fullmetal Alchemist: Brotherhood.
Bananya cast Yuki Kaji (Eren Yeager in Attack on Titan) as the title role Bananya, Kurobananya (who comes from Europe), Kenagabananya (good-looking bananya with long hair), Oyajibananya (the oldest bananya) and Mikebananya (Bananya's neighbor), and 68-year-old manga artist Yoshikazu Ebisu as the narrator.
27-year-old anime voice actor Ayumu Murase voices (at least) six characters: Bananyako (main heroine), Torabananya (Bananya's self-proclaimed rival), Sabatorabananya (Torabananya's younger brother), Baby Bananya, Tabananya (Bananya's younger brothers), and Nezumi (rats). He is best known as Shoyo Hinata in theHaikyu!! anime franchise.
The five-minute short series featuring strange cats hiding in bananas is animated by Gathering (Keroro,
Gundam-san) in cooperation with TMS Entertainment (Detective Conan), and directed by Kyo Yadate
(Puchimas! Petit Idolmaster key animatior).
Hybrid x Heart Magias Academy Ataraxia
Launch time:
07/05/2016 11:00 AM PT (Tuesday)
Synopsis:
One day, humanity was invaded by another world.
Having experienced that battle, which came to be known as the start of Other World War I, humanity moved en mass to marine floats, built for emergency evacuation purposes, as soon as the bell rang for Other World War II less than twenty years later.
It's around that time that Kizuna Hida is summoned by his elder sister and visits the Strategic Defense Academy Ataraxia on the Japanese float, where he meets Aine Chidorigafuchi, a girl who uses Heart Hybrid Gear Zeros to fight the otherworldly enemies.
He has a tough time dealing with her saucy nature and sharp tongue, but when her Heart Hybrid Gear runs out of energy after fighting the enemy, the only way to get it back in action is to do something lewd to her!
With the future of humanity on the line, Kizuna would go on to perform lewd acts with loads of girls!
Territories
Worldwide except for Asia
The main staff for Hybrid x Heart Academy Ataraxia includes:
Original author: Masamune Kuji (published by Kadokawa's Kadokawa Sneaker bunko imprint)
Original illustrations: Hisasi
Original mecha design: Kurogin, Masamune Kuji
Director: Hiroyuki Furukawa
Series composition: Yasunori Yamada
Character design: Kana Miyai
Sound diretor: Masakatsu Ohmuro
Sound production: Dax
Music production: Flying Dog
Opening theme: "miele paradiso" by Iori Nomizu
Animation production: Production IMS
Production: Masou Gakuen Project Production Committee
The cast for Hybrid x Heart Academy Ataraxia includes:
Kenji Akabane as Kizuna Hida.
Akari Kageyama as Aine Chidorigafuchi.
Chinatsu Akasaki as Yurishia Farandole.
Juri Nagatsuma as Hayuru Himekawa.
Hina Kino as Silvia Silkcut.
And Rika Kinugawa as Reiri Hida.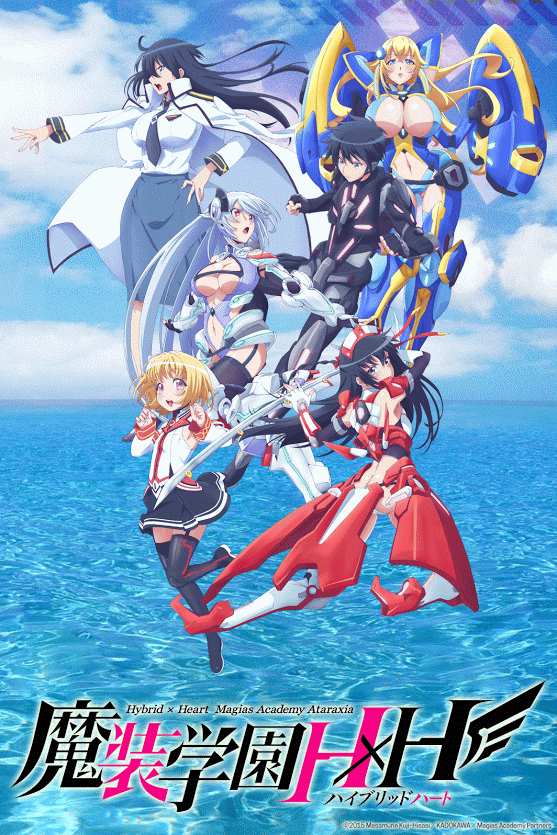 ©2015 Masamune Kuji・Hisasi/KADOKAWA/Magias Academy Partners
B-PROJECT
Launch time:
07/02/2016 10:00 AM PT (Saturday)
Synopsis:
Our protagonist, Sumisora Tsubasa, just got a job as a new A&R person at Gandala Music, one of the biggest record companies in the business.
Almost like it was a trap, as soon as she started with the company, she was put in charge of the idol unit, "B-PROJECT." Being in charge of B-PROJECT meant that she was in charge of the three groups,
"Kitakore" "THRIVE" and "MooNs." Because this is her first job, things don't go that well and she's faced with various trouble and accidents.
Be ambitious along with the ten BOYS who are all very different!
Notes:
Territories) United States, Canada
The main visual is by character designer Toshie Kawamura (Yes! PreCure 5, Smile PreCure!). Leads include Kaneko Hisamoto (Yayoi Kise/Cure Peace in Smile PreCure!, Ika Musume in Squid Girl) as the protagonist Tsubasa Sumisora.
The character is a rookie A&R at Gandhara Music, and is ordered to take charge in the male idol group B-PROJECT which has three in-units: Kitakore, THRIVE and MooNs. The TV anime also adds Kosuke Torimi as Tsubasa's superior Sakutaro Yashamaru, Kazuyuki Okitsu as Daikoku Production's president Atsushi Daikoku, and Daisuke Namikawa as Brave Entertainment's president Shuji Daikoku. Kitakore and THRIVE belong to Daikoku, while MooNs is under the management of Brave.
The TV anime is based on a new project featuring fictional male idol characters designed by Utako
Yukihiro (Uta no Prince-sama manga illustrator). 45-year-old J-Pop singer Takanori Nishikawa, who has
performed as T.M.Revolution, co-produces the project with Chiyomaru Shikura (Steins;Gate, Robotics;Notes).
Eiji Suganuma (Kodomo no Jikan, Sasameki Koto) servers as the director alongside series composition
writer Deko Akao (Snow White with the Red Hair, Flying Witch). The A-1 Pictures-animated series is
Tsubasa Sumisora, Sakutaro Yashamaru
Atsushi Daikoku, Shuji Daikoku
Kitakore
THRIVE
MooNs
©MAGES./Team B-PRO
NEW GAME!
Launch time:
07/05/2016 10:00 AM PT (Tuesday)
Territories:
Worldwide except for Asia
Synopsis:
After graduating high school, Suzukaze Aoba joins Eagle Jump, the game company that developed Fairies Story, the game she obsessed over as a kid.
On her first day as a working member of society, Aoba heads to work swaying in a packed, morning rushhour train.
She manages to get to the office building all right but hesitates, wondering if it was really okay for her to take that last step and go inside.
Tha's when a senior member of staff, Toyama Rin, shows up at work and safely leads Aoba inside the offices of Eagle Jump.
Cast for the anime includes
Yūki Takada as Aoba Suzukaze.
Yōko Hikasa as Kō Yagami.
Ai Kayano as Rin Tōyama.
Megumi Yamaguchi as Hifumi Takimoto.
Megumi Toda as Hajime Shinoda.
Ayumi Takeo as Yun Iijima.
Madoka Asahina as Nene Sakura.
Chitose Morinaga as Umiko Ahagon.
Eri Kitamura as Shizuku Hazuki.
Staff includes
Director: Yoshiyuki Fujiwara (Engaged to the Unidentified, Plastic Memories)
Series Composition: Fumihiko Shimo (Infinite Stratos, Myriad Colors Phantom World)
Character Design: Ai Kikuchi (Engaged to the Unidentifed)
Animation Production: Doga Kobo (A Bridge to the Starry Skies - Hoshizora e Kakaru Hashi)
Chief animation director: Ai Kikuchi, Yūichi Oka, Manamu Amasaki, Chisato Kikunaga
Prop design: Eri Nakajima
Art director: Shunsuke Suzuki
Color design: Kei Ishiguro
Director of photography: Takafumi Kuwano
Editing: Daisuke Hiraki
Sound director: Masanori Tsuchiya
Sound effects: Yasumasa Koyama
Sound production: Delphi Sound
Music: Hajime Hyakkoku
Musis production: Kadokawa
Animation production: Doga Kobo
Production: New Game! Production Committee
©Shotaro Tokuno,HOUBUNSHA/NEW GAME! Project
Hitorinoshita - The Outcast
Launch time
07/09/2016 06:30 AM PT (Saturday)
Synopsis:
The protagonist, Cho Soran, leads a very common college student's life until he finds himself caught up in a terrible incident that happened in a small village. As he was walking through a graveyard, Cho Soran is assaulted by zombies. Thinking that it was over for him, a mysterious girl carrying a sword suddenly saves him and disappears.
This strange encounter is going to change drastically the fate of our hero.
Notes:
Territories:
Worldwide except Japan, China, Korea
The "psychic power battle anime" is based on a Chinese web comic produced by one of the largest Internet companies in Asia, Tencent. The comic has had over 300 million views in China.
The anime adaptation is the second project by the Haoliners brand for Japanese market, following the first project Reikenzan. Shanghai Emon works on the planning, while animation production itself is helmed in Japan.
The protagonist of the story, Cho Soran was an ordinary college student before he was involved in a
horrific incident that happened in a small village. When attacked by zombies in a graveyard, he was
rescued by by a mysterious woman. More he steps into the incident, more his destiny changes dramatically.
Main Voice Cast:
Chou Soran: Atsushi Tamaru (Ayato Amagiri in The Asterisk War)
Chou Soran (child): Yuko Iida (Kanade Hayami in The [email protected] Cinderella Girls)
Jo Houhou: Saori Hayami (Ayase Aragaki in Oreimo)
Jo San: Kenji Nojima (Taihei Doma in Himouto! Umaru-chan)
Jo Yon: Shinnosuke Tachibana (Tomoe in Kamisama Kiss)
Saru: Kappei Yamaguchi (Usopp in One Piece)
Ryu Kenken: Ayaka Asai (Mio Naruse in The Testament of Sister New Devil)
Chou Shakurin: Tadashi Miyazawa (Sugoroku Mutou in Yu-Gi-Oh! Duel Monsters)
Chou Yotoku: Kanehira Yamamoto (Arnold Leben in Schwarzesmarken)
Natsuka: Yoko Hikasa (Mio Akiyama in K-ON!)
Lo Ryu: Marie Miyake (Takumi Korobase in Pandora in the Crimson Shell: Ghost Urn)
Fuusaen: Yumi Hara (Takane Shijo in The [email protected])
Chou Reiyu: Kousuke Toriumi (Cecil Aijima in Uta no Prince-sama)
©Tencent
------
Scott Green is editor and reporter for anime and manga at geek entertainment site Ain't It Cool News. Follow him on Twitter at @aicnanime.