Gen Urobuchi scripted Wuxia puppet action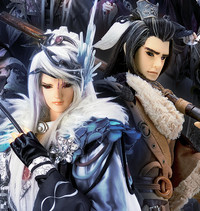 Crunchyroll has acquired a stunning new show for the summer season: Thunderbolt Fantasy! It's not anime (although famed writer Gen Urobuchi is involved), but the insane martial arts puppet action is sure to thrill you all the same!
I know "puppet martial arts" might sound like a tall order for some, but if you've seen a dazzling, mind-melting Pili International Multimedia show before (their movie Legend of the Sacred Stone came out a few years back), you'll know how turly amazing and unique their offerings are, so give it a shot!
Right now, we only have the announcement that Thunderbolt Fantasy has been acquired – launch date and times will be confirmed later – but it will be available in English for Crunchyroll members in all territories except Asia.
Gen Urobuchi is serving as scenario writer, screen writer, and supervisor for Thunderbolt Fantasy - Dōng lí jiàn yóujì ("Sword Travels from the East") a Japanese / Taiwan co-production in the form of a Wuxia fantasy puppet show. The staff announced includes:
Series composition, screen writing, and supervision: Gen Urobuchi (Nitroplus)
Puppetry, camerawork: Pili International Multimedia
Character design: Nitroplus
Modeling advisor: Good Smile Company
Production: Thunderbolt Fantasy Project
Additionally, the following cast members were also announced for Thunderbolt Fantasy:
Kōsuke Toriumi as the voice of Lǐn Xuě Yā.
Junichi Suwabe as the voice of Shāng Bù Huàn.
Mai Nakahara as the voice of Dān Fēi.
And Tomokazu Seki as the voice of Miè Tiān Hái.
PROMO VIDEO, WATCH THIS PLEASE, IF ONLY FOR ME!
Patrick Macias is editor in chief of Crunchyroll News & Otaku USA magazine.
He is also the writer of HYPERSONIC music club, Paranoia Girls, & PARK Harajuku: Crisis Team!