50-minute special episode will start streaming on July 30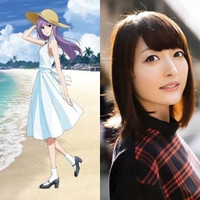 The official website of the Monster Strike web anime has announced that 27-year-old popular anime voice actress Kana Hanazawa (Kuroneko/Ruri Gokou in Oreimo, Kosaki Onodera in Nisekoi) will make a guest voice appearance as a mysterious girl named Kisskill Lira in the upcoming summer special episode "Mermaid Rhapsody." The character will appear in the game app as well. While the web anime's regular episodes have been streamed in a seven-minute format, the special will be 50-minute long. It will be available on the web from 19:00 on July 31 (JST).
The web anime adaptation of Mixi's mega hit action RPG has been streamed on its YouTube channel since October 2015. The game has had over 35 million registers users worldwide, and the web anime series has been viewed over 25 million times in total with multilingual support: English, Traditional Chinese, Simplified Chinese, Korean, French, German, Spanish, and Portuguese.
7/30(土)モンストアニメ夏のスペシャル配信が決定!本作は約50分に拡大して配信するスペシャル版!さらに、アニメ内に登場する謎の少女「キスキル・リラ」がアプリにも登場! #モンスト https://t.co/QFI6qtY68A pic.twitter.com/cCrLIIDUey

— モンスターストライク公式(モンスト) (@monst_mixi) June 30, 2016
PV for the anime series
Main voice cast:
Ren Honoo: Yusuke Kobayashi
Oragon: Jun Fukushima
Aoi Mizusawa: Lynn
Akira Kegetsuki: Kengo Kawanishi
Minami Wakaba: Juri Kimura
Source: "Monster Strike" web anime official website
©mixi, Inc.