Every Sunday at 9:30am PT with Episode 1 launching today at 4:30pm PT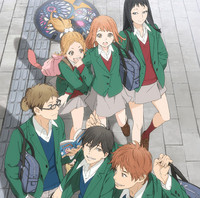 Orange was announced a while back as part of the Crunchyroll Summer ROLLOUT special, but now we have launch date and regions for you regarding this TV anime based on the romance manga with a time travel twist by Ichigo Takano!
Orange airs every Sunday at 9:30am PT with a special launch of Episode 1 TODAY at 4:30pm for Crunchyroll members worldwide except Asia (episode 2 will be available on 7/10).
About Orange
During the spring of her second year of high school, Naho receives a letter. Its sender is herself from ten years in the future.
Naho thinks it's a prank at first, but when the things written in the letter start to come true one by one, she realizes that the letter is telling her of events that will happen in her future.
It tells her that she'll fall in love with Kakeru, a new student who transfers to her school... and that he'll die in the winter of his 17th year.
After learning the regrets and wishes of the 26-year-old Naho following Kakeru's death, what can the 16-year-old Naho do differently?
The TV anime adaptation of Orange is directed by Hiroshi Hamasaki and features animation from Telecom Animation Film and TMS Entertainment. The original Orange manga is published in Futabasha's Monthly Action magazine. An English language version of the manga is available via simulpub on Crunchyroll and in-print via Seven Seas Entertainment.
Cast
Kakeru Naruse: Seiichirō Yamashita
Hiroto Suwa: Makoto Furukawa
Saku Hagita: Kazuyuki Okitsu
Naho Takamiya -Kana Hanazawa
Azusa Murasaka - Natsumi Takamori
Takako Chino - Rika Kinugawa
Patrick Macias is editor in chief of Crunchyroll News & Otaku USA magazine.
He is also the writer of HYPERSONIC music club, Paranoia Girls, & PARK Harajuku: Crisis Team!