Medvedeva performed routine in costume during this week's Dreams On Ice in Nagaoka, Japan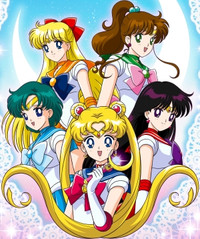 16-year old figure skater Evgenia Medvedeva has become a Japanese sensation ever since she began touring Japan in the last couple of years. From reciting Moonlight Densetsu in Japanese and running a Twitter account that proudly showcases her love of anime and manga, she has become a star in Japan, which only cemented itself further after this week's Dreams on Ice performance in Nagaoka, Japan, in which she performed a free skate routine in a dress inspired by the Sailor Senshi battle uniform worn by Usagi Tsukino.
As a result of the above routine and subsequent media coverage, she got an amazing surprise that would leave many Sailor Moon fans speechless, as she was greeted by none other than Naoko Takeuchi herself and was presented with a gift in gratitude for her routine and appreciation of Sailor Moon.
via Sankei Sports, additional images via Instagram
---
Humberto Saabedra is the Owner of AnimeNews.biz and a part-time recording engineer. He can also be found musing on things at @AnimeNewsdotbiz