Would you want to eat a "Ghostbusters"-inspired burger?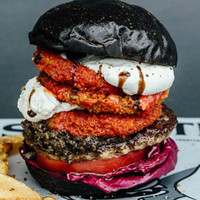 If you need some grub in your neighborhood, who you gonna call? J.S. Burgers Cafe in Tokyo, for a set of some decadent-looking burgers based on the Ghostbusters film franchise.
There are four different treats in all, including one with a black bun, a Slimer smoothie, Black Chili Chips, and the Marshmallow Mad Burger for dessert, which looks like it might be the most terrifying for your body but a party for your taste buds.
Check out the tantalizing treats below, and if you're in the neighborhood you might want to stop by and give them a try! Make sure to eat a couple for all of us at Crunchyroll too.
[via A.V. Club]
-------
Fueled by horror, rainbow-sugar-pixel-rushes, and video games, Brittany is a freelancer who thrives on surrealism and ultraviolence. Follow her on Twitter @MolotovCupcake and check out her portfolio for more.