42-year-old singer also voices the famous mysterious thief character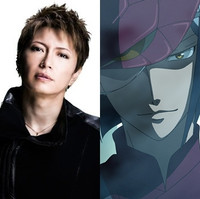 The official website of the upcoming TV anime TRICKSTER has posted a 100-second second PV introducing its OP song "Kimi dake no Boku de Iru Kara" (I'll be the one only for you) performed by GACKT. The song is included in his newest 8th album "LAST MOON" released on April 27, 2016.
It is also confirmed that the 42-year-old singer voices Kaijin Nijumensou (The Fiend with Twenty Faces), the main villain in the story. He has some anime voice acting experiences in the past, playing Seiji in The New Fist of The North Star (2003-2004), Seishiro Kirishiki in Shiki (2010), Kiyoshi Date/Dante in SKET DANCE (2011-2012), and Kenshin Uesugi in Tono to Issho (2010, 2011).
The TMS Entertainment and Shin-Ei Animation-produced series is based on Japanese mystery novel writer Edogawa Ranpo's "The Boy Detective Club" series started in 1936. The series' main antagonist The Fiend with Twenty Faces has been known as one of the most famous mysterious thieves in the
Japanese mystery novel world, and many films, TV dramas and manga inspired by the character have
been produced.
TRICKSTER is set to premiere on Tokyo MX, Yomiuri TV and BS11 this October.
2nd PV
「TRICKSTER」江戸川乱歩が生んだ変幻自在な稀代の犯罪者怪人二十面相役にGACKTさんが決定!キャラクター情報&キャストコメントを更新いたしました!→https://t.co/FrUkctuxxJ #trickster pic.twitter.com/6FvvpdWHCo

— 「TRICKSTER」TVアニメ公式 (@trickster_anime) July 3, 2016
---
1st PV
Main staff:
Director: Masahiro Mukai (Hyperdimension Neptunia The Animation)
Scenarios/Series Composition: Erika Yoshida (Tiger & Bunny, Heroine Shikkaku)
Original Character Design: PEACH-PIT (Rozen Maiden, Shugo Chara!)
Anime Character Design: Shinya Yamada (Your Lie in April animation director)
Music: Yuuki Hayashi (Haikyu!!, My Hero Academia)
Anime Production: TMS Entertainment (Detective Conan), Shin-Ei Animation (Crayon Shin-chan)
Teaser visual
Source: "TRICKSTER" TV anime official website, Twitter
(c)Jordan Morisugi/TRICKSTER Production Committee