"Escaflowne" and "Code Geass" plans announced, plus more simulcasts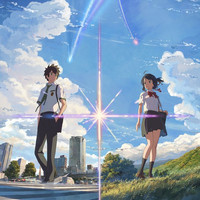 At this weekend's Anime Expo panel, Funimation announced that the anime distributor has acquired the licenses for Drifters, the new anime from Hellsing creator Kouta Hirano and Your Name (Kimi no Na wa), the new film from director Makoto Shinkai, which they will be releasing in theaters and on home video.
Funimation has secured international rights to home entertainment, video on demand and broadcast distribution of the title from NBCUniversal Entertainment Japan to Drifters, which is set to premiere this October on the company's subscription streaming service, FunimationNow, in the U.S., Canada, U.K., and Ireland.
Just announced at #AnimeExpo2016 is Drifters, an upcoming show for Fall Season, based on the hit manga! pic.twitter.com/4tLb52pmkD

— Funimation (@FUNimation) July 3, 2016
Funimation describes Your Name
Mitsuha and Taki are two total strangers living completely different lives. But when Mitsuha makes a wish to leave her mountain town and for the bustling city of Tokyo, they become connected in a bizarre way. She dreams she is a boy living in Tokyo while Taki dreams he is a girl from a rural town he's never been to.
What does their newfound connection mean? And how will it bring them together?
Announced at the Sunrise panel, The Escaflowne TV series collector's edition, standard editions, and movie will all hit shelves on October 18, 2016! All releases with have both the new 2016 English dub and the original broadcast English dub, as well as Japanese audio. Pre-orders launch July 15th.
They say
As you may recall from our Kickstarter campaign earlier this year, the series is set for a home video release this fall that features brand new HD materials of the series, plus several new director's cut scenes never before seen in North America, from the Japanese Blu-ray release. Because the new scenes have never been dubbed in English, we had the rather unprecedented idea of using Kickstarter to ask you, the fans, if there was an interest in a new dub to match the complete materials. With the success of the Kickstarter, the new release will have the new 2016 English dub set to the director's cut HD materials. In addition, we have upgraded all of the sets to include the original dub set to broadcast materials as well.
Collector's Edition
Standard edition
Kickstarter exclusive tarot cards and box
Also announced at the Sunrise panel, Code Geass: Lelouch of the Rebellion and Code Geass R2 are returning to home video, with their first release on Blu-ray in North America, on October 4, 2016! Pre-orders will go up on funimation.com in just under 2 weeks on July 15.
They say
Back for the series' 10th anniversary, both seasons of Code Geass will feature a brand-new Japanese 5.1 surround sound audio mix used on the recent Japanese Blu-ray box sets—an entirely new viewing experience from previous releases. This isn't just the original stereo audio re-mastered: the music and sound effects have actually been painstakingly re-recorded, all under the quality supervision of director Goro Taniguchi himself, to really immerse you in all the action and drama. We're ecstatic to bring you this special new version, in addition to the original Japanese stereo audio and the original English dub.
Both seasons will be available in a 10th anniversary Collector's Edition set that features a handsome chipboard box accentuated with metallic inks. Inside, the set will include 16 gorgeous art cardsfeaturing illustrations from the world-renown manga artists, CLAMP, who created the character designs for the series. These frame-worthy cards include a beautiful pearlescent finish that enhances each unique illustration. This art was previously featured in a Japan-only art book.
The release also comes with hours of extras, including Japanese voice actor commentary and English voice actor interviews, plus picture dramas.
Standard edition Blu-rays and DVDs are also planned
Also, joining their summer simulcast line-up is Planetarian, which they describe

For thirty years, companion robot Hoshino Yumemi has patiently waited to show someone the stars. Left in an abandoned planetarium, she sits hoping for customers that will never show. That is, until a Junker– a plunderer of goods and artifacts from the ruins of civilization—stumbles upon the crumbling establishment. Will he help her repair the planetarium, or will she be alone once more?
And the Show By Rock shorts, the new anime inspired by Sanrio's music game.
And, Production I.G's panel indicated that Funimation has licensed Ghost in the Shell 2: Innocence.
------
Scott Green is editor and reporter for anime and manga at geek entertainment site Ain't It Cool News. Follow him on Twitter at @aicnanime.