Second season to cover the Kyoto Impure King arc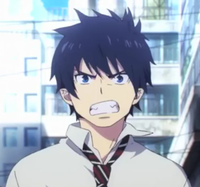 Following up on the earlier leak that revealed the second season of the TV anime adaptation, the first official details have been confirmed for the Kyoto Impure King Arc of Blue Exorcist. First, the anime is slated for a 2017 premiere and the cast from the first season will return. The new key art is posted below.
The staff is posted below and is as follows, with A-1 Pictures handling animation production
Staff
Director: Koichi Hatsumi (replacing Tensai Okamura)
Scriptwriter: Toshiya Ono/Ryota Yamaguchi
Composers: Hiroyuki Sawano, Kohta Yamamoto
Character Design: Keigo Sasaki
Synopsis
The story of Blue Exorcist continues with the students of True Cross Academy alongside the Exorcists who fight the demons that appear on Earth.
The eye of Fujo-O the impure king was stolen from the secret room of the True Cross Academy. Rin and his friends are sent to recover the stolen eye in Kyoto, where the second eye is located. Ryuji's family's mission is to protect it at all costs. But when both eyes are used together, the Impure King, a demonic entity that has left thousands dead in the middle of the 19th century will be brought back to life ...
Trailer

Ao no Exorcist: Kyoto Fujou Ou-hen PV1.
---
Humberto Saabedra is the Owner of AnimeNews.biz and a part-time recording engineer. He can also be found musing on things at @AnimeNewsdotbiz